Web Summit draws thousands of tech firms and investors to Lisbon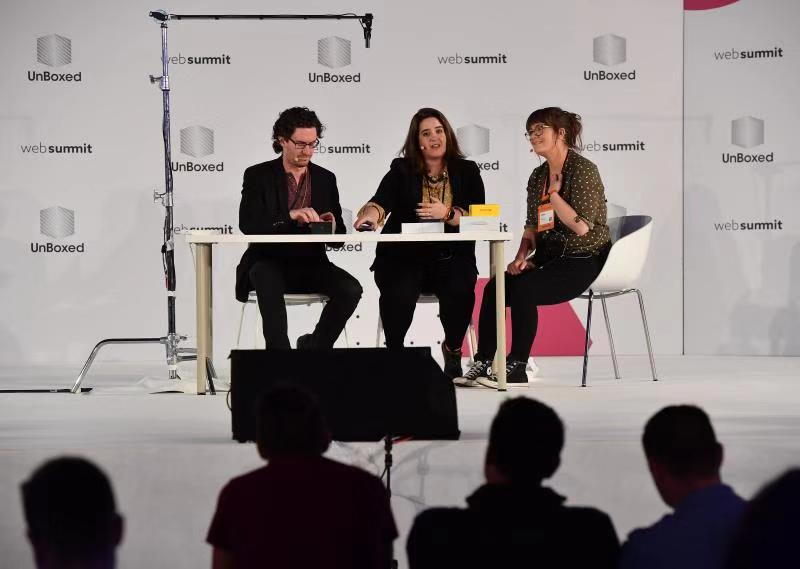 Chinese investors and accelerators are gathering at Europe's largest tech event, Web Summit, in Lisbon this week, to search for cutting-edge technology that can be introduced to China's massive market.
Their interest comes as China undergoes a structural shift away from being a manufacturing hub toward a consumption and technology driven knowledge economy, and the country's high-tech commercialization strength is fast-growing.
Artificial intelligence, smart manufacturing, the internet of things, healthcare, and education are key sectors that many investors are looking at Web Summit, which started in Dublin in 2009, has grown into a massive match-making event for tech startups and tech investors.
This year's conference, which started on Monday evening and continues until Thursday, has attracted more than 1,800 startups and 1,500 tech investors from around 160 countries and territories.
"Web Summit allows us to get a good overview of what are new trends and identify companies for our acceleration program," said Oscar Ramos, program director of the Shanghai-based accelerator Chinaccelerator.
Since its founding in 2008, Chinaccelerator has helped more than 150 startups grow.
Those startups from outside China have been assisted in expanding into China while Chinese startups have been helped in accessing the international market.
"China is fast transforming into a knowledge economy, with high tech, healthcare, and consumer sectors growing extremely fast. We are confident that many cutting-edge technology firms from Europe will find a big market in China," said Sue Wang, the president's assistant at Beijing SkyoceanCombplus Technology, an accelerator.
Founded in 2016, the company has already assisted more than 60 foreign tech companies grow in China by providing them with China-based technical, legal, and financial advice and by connecting them with Chinese investors. The enterprise also invests in some of the companies and profits from their growth in China.
Other notable Chinese funds at Web Summit include the seed fund ZenFund, the early-stage venture capital company Cherubic Ventures, and Shenzhen Valley Ventures, which is both a fund and a technology research and development lab that helps startups commercialize their technology.
Most of the funds and accelerators are attending Web Summit for the first time, which highlights the ever-growing technology-sector links between China and Europe.
"Although Chinese investors traditionally looked more toward the US, in recent times we've seen new opportunities emerge in Europe, where new startups are emerging and traditional manufacturing firms are in a process of digitalizing their operations," said Tong Li, a founding partner of Shenzhen Valley Ventures."China's increasing growth of skilled engineers in recent years has turned high-tech hubs like Shenzhen into a great place for leading startups to prototype and commercialize their products."
Since it was founded in 2015, Shenzhen Valley Ventures' team of 70 engineers has helped a few dozen US startups commercialize their products, and has invested in about half of them through its own fund. Recently, it started to provide its technology commercializing services to European startups. The company is now preparing to set up an office in Berlin so it can work with new European clients.
China's digital economy was worth 27.2 trillion yuan ($4.1 trillion) in 2017 and accounted for 32.9 percent of China's gross domestic product, according to the China Academy of Information and Communications Technology. Last year, 171 million people worked in sectors related to China's digital economy sector, which accounted for 22 percent of the nation's workforce.
China's smartphone maker Xiaomi and Oppo both exhibited their phones at Web Summit, and Shenzhen-based DJI showcased its drones.