Chinese spending more on pets
Share - WeChat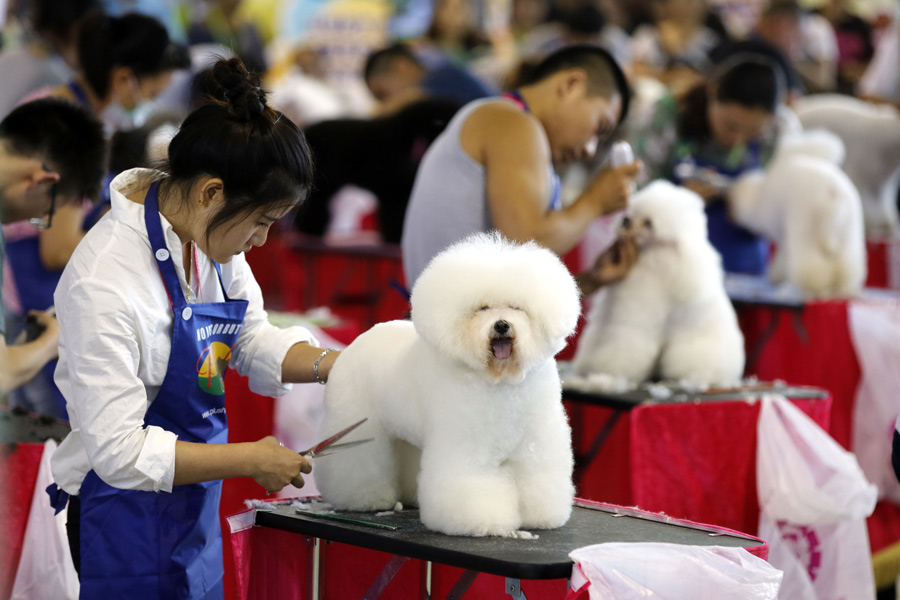 Wang Junyue, a 24-year-old girl from Beijing, spends a tenth of her salary on her furry family member, a seven-month-old cat, for cat food, daily necessaries, toys and grooming.
Such expenditure is common among Chinese pet owners who spend big bucks on their pets, according to a pet industry report released by goumin.com, an online pet forum, in August.
According to the report, Chinese pet owners in urban areas have reached 73.55 million, raising a total of 91.49 million dogs and cats, the majority of the pets.
The country's dog and cat market is estimated to reach over 170 billion yuan (about 24 billion U.S. dollars) in 2018, up 27 percent year on year, the report said.
It also revealed that Chinese dog and cat owners would spend over 5,000 yuan per pet in 2018, an increase of 15 percent from 2017.
Most of the spending is on pet food, products and snacks, with dog food accounting for 36 percent and cat food for 44 percent, the report showed.
Pet owners in first- and second-tiered cities are more willing to buy quality and expensive pet food, according to the report. Wang, who works in a Beijing-based foreign company, said she prefers imported cat food, which costs her around 300 yuan every month.
Other expenses on pets include sterilization, grooming, vaccines, medical treatment and training.
"My toy poodle's grooming is even more expensive than my haircuts. I have to pay 120 to 150 yuan each time," said Wei Ke, a kindergartener from Qingdao, east China's Shandong Province.
Wei usually has her dog groomed twice a month during the summer, spending around 2,000 yuan a year on grooming alone.
According to research by the China Agriculture University (CAU), the pet industry develops rapidly when a country's GDP per capita is about 3,000 to 5,000 dollars. China's GDP per capita has surpassed 8,000 dollars.
CHANGING ATTITUDES TOWARD COMPANION ANIMALS
The increasing expenditure is partly attributed to people's attitudes toward pets, as more and more people treat them like their family members.
"It is natural to spend money on their 'family members,'" said Liu Bo, a CAU professor.
"This trend not only meets people's demands for a better spiritual life but also reflects the social progress of the country," said Liu.
Both Wang and Wei consider their pets family members. Wei said she would buy her dog everything that it liked.
For Wang, raising a pet "feels like raising a child," bringing her both happiness and challenges.
Most owners enjoy the bond between them and their pets as well as the pleasure brought by their pets.
Meanwhile, pets play the role of a companion. Wei's grandmother owns a golden retriever. "She did not like it before, but now, she cannot live without it," Wei said.
Besides the elders, more and more young people have started to raise pets in recent years. According to research by the consulting institute Zhiyan.org in May, over 70 percent of Chinese pet owners were born in the 1980s and 1990s.
Noting that white-collar workers and students dominate the generations of 80s and 90s, Liu said pets help young people feel relief from life and work pressures and fill the gap in their social lives.