Truck driver behind Lanzhou highway accident detained
Share - WeChat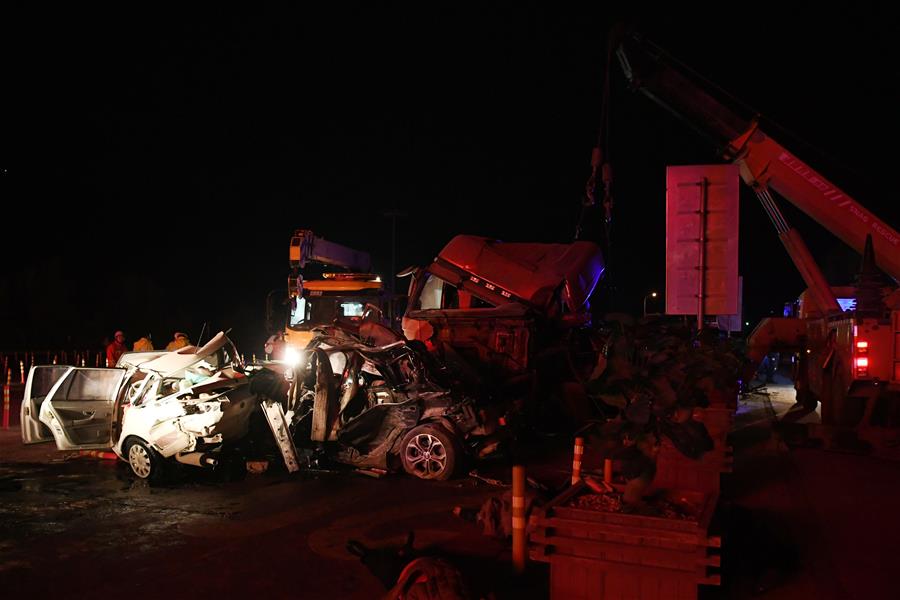 A truck driver who caused a major car accident that killed 15 people and injured 36 on Saturday evening in Lanzhou, Northwest China's Gansu province, has been detained, according to local police.
Traffic control on the Lanzhou-Haikou expressway had been removed by 11 am Sunday and traffic was restored on the Lanzhou-Lintao highway, where the accident happened yesterday.
The 45-year-old truck driver Li Feng, originally from Northeast China's Liaoning province, crashed a tower-crane truck into a line of 31 vehicles 50 meters away from the Lanzhou South Toll Station on the expressway at 7:21 pm in Lanzhou.
Primary investigations found that the accident happened due to brake failure on the continuous downhill sections of the expressway. It was also the first time the driver had driven on the Lanzhou-Haikou expressway.
After the accident happened, the Lanzhou Municipal Public Security Bureau sent more than 260 policemen on-site for rescue.
The local traffic police and the district police also worked closely to rescue the originally injured 37 people, sending them to local hospitals.
At 2:30 am on Sunday morning, the area where the accident occurred had been cleaned up, local police said.
Related: At least 15 dead in a 31-vehicle pile-up in NW China
The death toll in a 31-vehicle pile-up on an expressway in northwest China's Gansu Province on Saturday evening has risen to 15 with 44 injured as of Sunday morning, local authorities said.
Ten of the 44 injured people were seriously injured, according to local government.
A tower-crane truck lost control and crashed into a line of vehicles 50 meters away from the Lanzhou South Toll Station on the Lanzhou-Haikou Expressway at 7:21 pm in Lanzhou.
The truck driver, who was slightly injured in the crash, is under police watch and is being investigated. The driver said the vehicle had a brake failure in the continuous downhill section of the expressway. Cause of the accident is under investigation.
The Gansu provincial authorities demanded examination on dangerous sections of expressways across the province.