Students shine at Wuzhen theater festival
Share - WeChat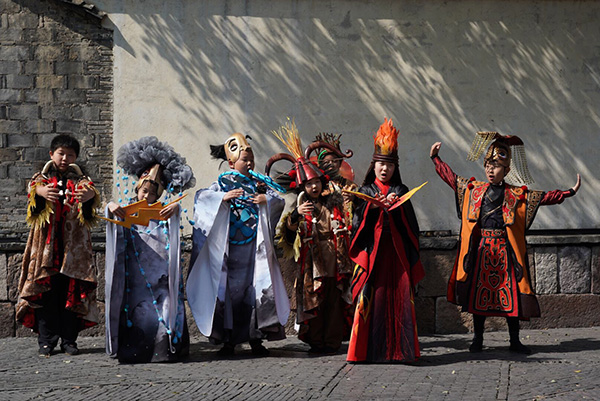 A theatrical adaptation of Shanhaijing, a classic collection of texts on myths in ancient China, was the most popular play at the carnival of this year's Wuzhen Theatre Festival.
Performed by a group of students from Beijing Chongwen Primary School, the play tells a story in English of a little boy being ridiculed by his classmates after adding wild fantasy into the tales he learned from the Chinese classic at a reading salon in his school. He becomes so upset at the teasing that he tears up the book. Suddenly, a figure named "Shanhaijing" appears, telling him in-person the stories of mythical characters like Goddess Nvwa and Emperor Fuxi.
This was the first time these primary school students performed on a professional theatrical stage. Although the children had little formal training, directors Ma Zhuojun and Li Haotian, who have collaborated with renowned theater director Lin Zhaohua for over a decade, still spurred the children to improve as much as possible to reach the level of a professional theatrical group in rehearsals.
"I hope the children will keep interesting memories of theater for their future," Ma said.
Wang Nan, producer of the play, started encouraging children to boldly express themselves through theater in 2007, and still enjoys witnessing onstage cooperation.