Abe's balancing act between China and India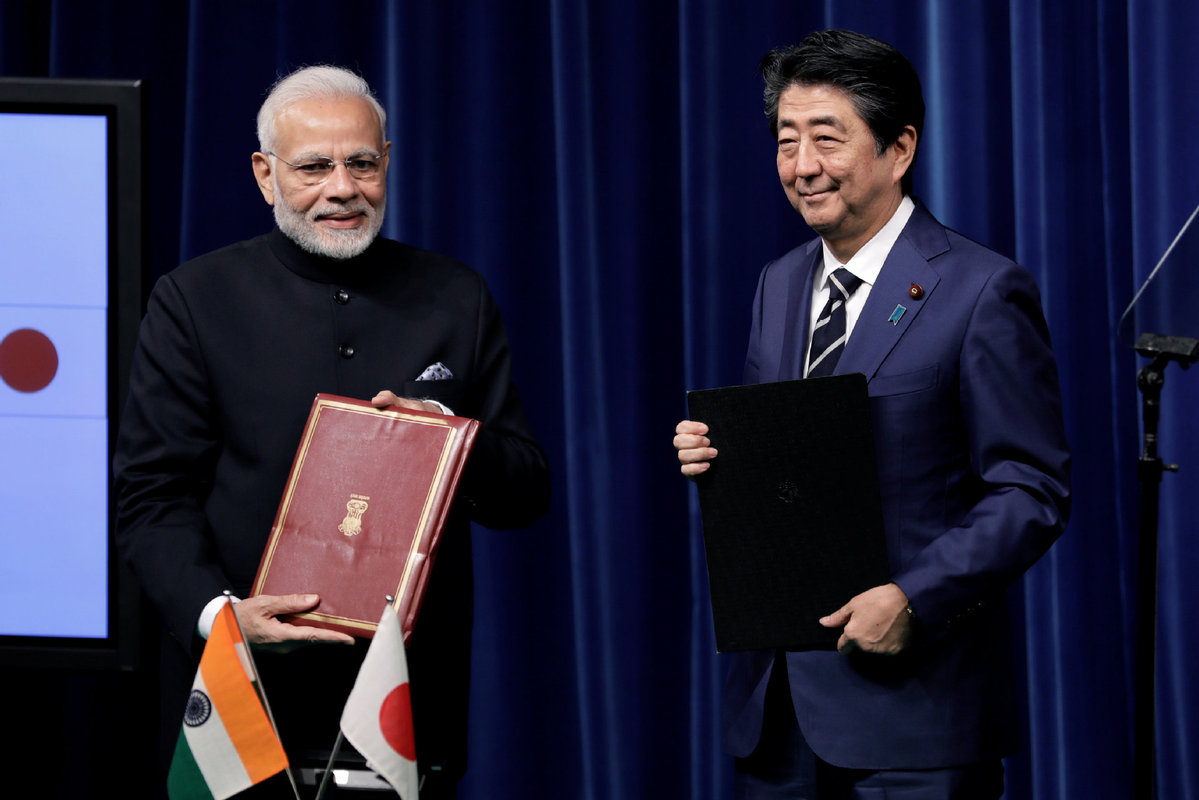 President Donald Trump's trade wars against one and all are pushing Asia's three biggest economies -- China, Japan, India -- into an unprecedented tighter knit. Of the three, while growth rates of China and India remain vibrant and usually above 6 percent, it is the Japanese economy that has continued to grapple with low growth rates often crossing the decimal point. This perhaps explains Shinzo Abe's diplomatic overdrive with China and India as part of the growing centrality of bolstering of trade, investment and tourism in his so-called Abenomics.
Abe's China visit last week, for instance, was noticed in India for underlining, along with Li Keqiang, their major shift "from competition to cooperation". Likewise, Indian prime minister Modi's April informal summit with President Xi Jinping has also been credited for a reset in China-India ties. To Abe's discomfort, Modi has since argued for making China integral to all parleys on the Indo-Pacific. But now, Modi's visit to Tokyo this week saw Abe extending a personal touch by hosting Modi at Yamanashi and having a joint train ride to Tokyo, where the two sides signed a slew of agreements including institutionalizing their 2+2 meeting, the annual joint meeting of their foreign and defense ministers.
The United States is the only country with which India has had the 2+2 mechanism. Also, other than Russia, Japan is the only country where India has institutionalized an annual head of government summit, with this being their 13th. This has seen Japan drifting from once being the flag-bearer for technology control regimes -- denying India defense and dual use technologies -- to now becoming India's major hope for frontier technologies. Other than major defense systems like US-2 amphibious planes and Soryu-class attack submarines, India and Japan are now engaged in finalizing US-like foundational agreements for logistic support and communications between Indian and Japanese navies. India's Defense Research and Development Organization has been working with their Japanese counterparts on unmanned aerial vehicles and robotics.
Meanwhile, Japan, which has become increasingly integral to China's Belt and Road Initiative, has also emerged as the leading partner in India's major infrastructure projects for connectivity, both inside and in their joint ventures for third countries. Japan is a leading player today in Prime Minister Modi's Making in India, Skill India, Digital India, Start Up India and Smart Cities projects involving a whole range of civilian technologies. Japan is already leading brands in India in automobiles, telecommunications and other consumer gadgets, though China's visibility has also increased. The intangibles of their Special Strategic and Global Partnership have seen Modi's Act East blending seamlessly into Abe's Free and Open Indo-Pacific, and all their three services will now be holding joint exercises. From 2013 India has been the largest recipient of Japan's official development assistance and their investments have been rising rapidly. During 2012-2017, Japan's foreign direct investment in India grew from $2.32 billion to $4.71 billion.
But the continued slide in India-Japan bilateral trade remains their worry. In the last four years, while their trade has shrunk from $16.8 billion to $13.5 billion, their trade deficit has increased from $2.7 billion to $5.7 billion. This is because India's exports to Japan have declined by a whopping 44 percent, with increasing complaints about market access constraints for Indian companies. Their 2011 Comprehensive Economic Partnership Agreement has failed to deliver. Meanwhile, India's trade with China has reached $85 billion, though, even here, deficits remain as India's major worry.
Indeed, the argument that, compared to China-India or China-Japan, India-Japan relations have no disputes fades in face of Japan's whopping trade figures for China as opposed to India: $297 billion compared to $13.5 billion for 2017. The same is true for Japan's cumulative investments since 2000: $122 billion for China and only $25.7 billion for India. Even in terms of people-to-people ties, over 7.35 million Chinese visited Japan last year, compared to 120,000 Indians. This clearly reflects the hard realities of China's unprecedented rise, while India holds promise but only in the making. Abe's balancing of China and India therefore has its pitfalls, as triangles, especially asymmetric ones, have never been easy to harmonize.
The author is a professor at Jawaharlal Nehru University, New Delhi, and adjunct senior fellow at The Charhar Institute, Beijing.
The opinions expressed here are those of the writer and do not represent the views of China Daily and China Daily website.
Most Viewed in 24 Hours
China Views