Leaders salute launch of Sino-French space satellite
Share - WeChat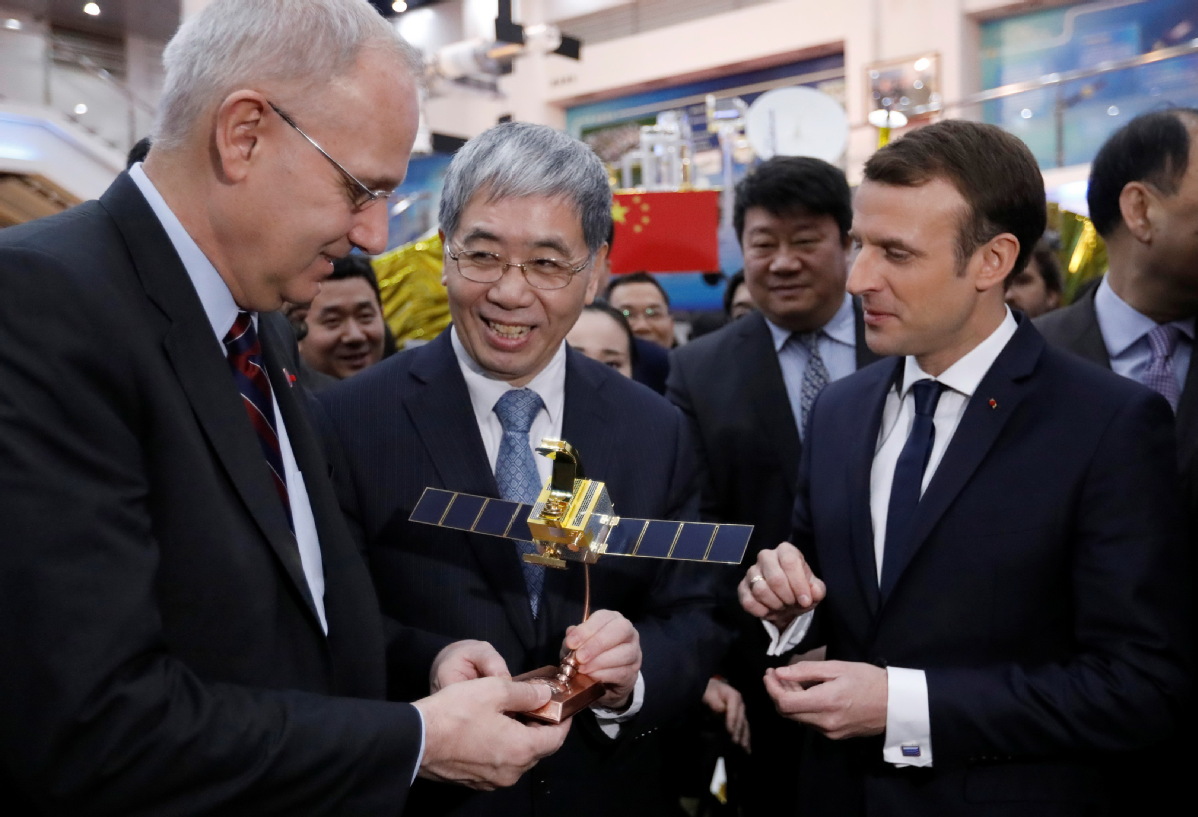 President Xi Jinping exchanged congratulations with his French counterpart Emmanuel Macron on Monday on China's successful launch of an ocean-observing satellite jointly developed by the two countries as part of their space cooperation.
The China-France Oceanography Satellite, atop a Long March 2C carrier rocket, took off at 8:43 am Monday from Jiuquan Satellite Launch Center in Gansu province and entered a sun-synchronous orbit 520 kilometers above Earth.
Xi said in his congratulatory message to Macron that space cooperation is an important part of the China-France comprehensive strategic partnership.
The satellite's launch, the latest result of their cooperation, will play a significant role in global marine environmental monitoring and disaster management and reduction and also will help fight climate change, Xi added.
The joint mission between the China National Space Administration and the Centre National d'Etudes Spatiales, the French space agency, will enable 24-hour observation of the global wave spectrum, effective wave height and ocean surface wind fields.
Xi said China considers its relations with France to be very important. It is willing to work with France to deepen bilateral cooperation in various fields, and constantly advance a close, lasting comprehensive strategic partnership to a higher level so as to better benefit the two countries and peoples, he added.
Macron told Xi that the satellite launch marks an important step forward in bilateral space cooperation.
The success came after huge efforts by space agencies and researchers of the two countries, displaying again the will of both France and China to advance international efforts against climate change, the French leader said.
Calling space cooperation an important part of the France-China strategic partnership, Macron said France is willing to work with China to deepen bilateral exchanges and cooperation on space and climate change.
As the first satellite project between China and France, CFOSat is equipped with the world's most advanced technologies, experts said.
The satellite carries two innovative radar instruments-a wind scatterometer developed by China to measure the strength and direction of winds and a wave spectrometer developed by France to survey the length, height, and direction of waves, according to Wang Lili, chief designer of the satellite with the China Academy of Space Technology.
The two instruments will help scientists collect data about wind and waves at the same location simultaneously for the first time, Wang said.
Forecasts have been enhanced significantly in the past decade, but prediction accuracy still needs to be improved, especially in extreme events, such as hurricanes, typhoons and rapidly evolving storms, according to space scientists.
The new satellite, complementing other oceanography satellites, will study the dynamics of waves and how they interact with wind, and deepen understanding of their formation and physical mechanisms, said Zhao Jian, an official with CNSA.
It will help increase the observation and prediction of catastrophic sea states, such as huge waves and tropical storms, and provide security support for offshore operations and engineering, ship navigation, fisheries and coastal management, Zhao said.