Ma says countries must change education systems
Share - WeChat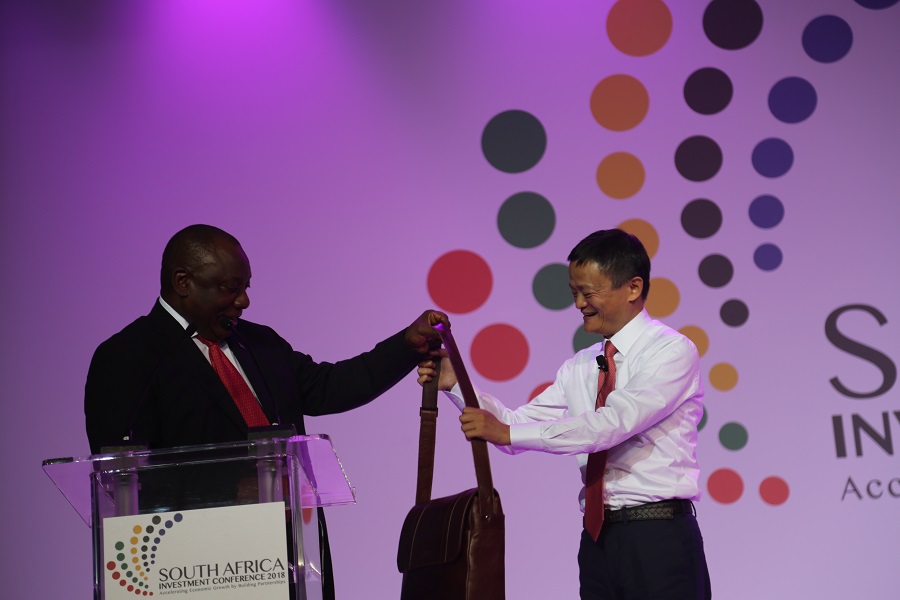 Jack Ma, the co-founder and executive chairman of the Alibaba Group, told South Africans that to fully develop, a country must pay attention to education, entrepreneurship and efficient and transparent governance.
Ma said the best investment by any country is in education and its people. The second thing is to trust, build and support entrepreneurs and make them heroes, he said, while the third and the most important is to have a transparent and efficient government.
Ma made his comments as guest speaker at the South Africa Investment Conference dinner on Oct 26 at the Sandton Convention Centre in Johannesburg, South Africa.
Noting the current digital era, Ma said it's important for a country to change its education system to benefit from Artificial Intelligence (AI) opportunities.
He said that education systems have been geared toward the industrial revolution over the past 200 years, and that they present a challenge because what children are currently learning, will be replaced by machines. There is, therefore, a need to change the current education system, Ma said.
He said children should be taught that they can do better than machines, that they can be more creative, innovative and more constructive and that machines will never replace human beings.
"Currently, there is a lot of talk about artificial intelligence and a fourth industrial revolution and people have started to worry. Many are worried that artificial intelligence will replace people. Trust me, human beings are always smarter and wiser than machines and they will never be replaced," Ma said.
"Machines will always be stronger than human beings, that's why we design them. Computers never forget, they calculate faster, they never become hungry and upset, they don't sleep. However, machines are smart, human beings are wiser; machines only have chips, human beings have heart; hence, we should have confidence instead of fear," he said.
Ma noted that government digitization is important to serve people better, efficiently and cost effectively.
"The South African president is very enthusiastic in embracing this technology revolution. and I will be very happy to join forces with him to ensure that you have a smart government," he said.
Ma said every country should also pay attention to people below 30 years old because they are the internet generation.
They should also pay attention to the companies that have fewer than 30 employees because the next technology revolution is a big challenge for big companies, hence, a great opportunity for small companies, he said.
"The next 30 years will be a period of the biggest challenge and the biggest opportunity as well. Most people will complain but those who will solve the problem of complaining, will be successful," Ma noted.
His advice to entrepreneurs: "Don't give up, be optimistic, have dreams, believe in the future, work with the team, and get the things done today."
South African President Cyril Ramaphosa thanked Ma for his insights. "I have learned about the importance of three Es - Education, entrepreneurship and the efficient government," he said.
The president said he particularly loved the advice that entrepreneurs should be treated as heroes.
"We should move away from what we have been fed with, and accustomed to, where we treated our entrepreneurs and called them all sorts of names and treated them like enemies and white monopoly capitals, that must end today. Let's treat them like heroes because they are here to develop and grow our economy," he said.
Ramaphosa said he looks forward to South Africa's partnership with Alibaba in extending training of South African youth on entrepreneurship and the establishment of a training hub in the country.