Former CCTV anchorman Li Yong dies at 50
Share - WeChat Former CCTV anchorman Li Yong died on Oct 25 at age 50 after 17 months of battle against cancer, Li's wife said this morning.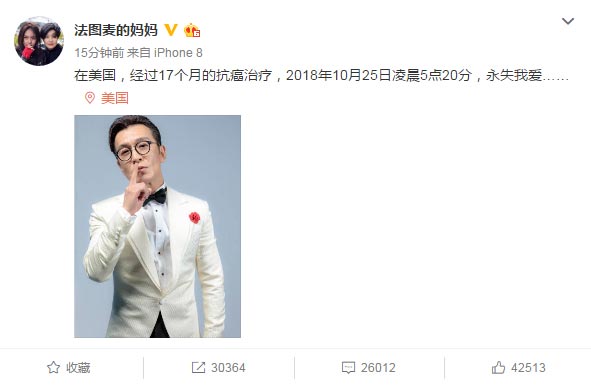 Ha Wen, television director and wife of Li, released a statement on her official Sina Weibo account which reads "I have lost my love, after 17 months of cancer therapy at 5:20 am on Oct 25, 2018, in the United States."
Li, who was born on May 3, 1968, in Urumqi, Northwest China's Xinjiang Uygur autonomous region, enrolled in Communication University of China in 1987, one of China's top institution for media production. In 1991, he joined China Central Television as a writer and director.
Li was most known for his witty comments and easy-going style while he hosted several hit reality game and talent shows, including Lucky 52, A Special Six-Plus-One, as well as the talk show Yong Le Hui.
Li has also hosted several years of Spring Festival Gala, the most watched television program in China during the Spring Festival.
Li is survived by his wife and a 16-year-old daughter.
Most Popular