Entering the man's world of beauty care
Share - WeChat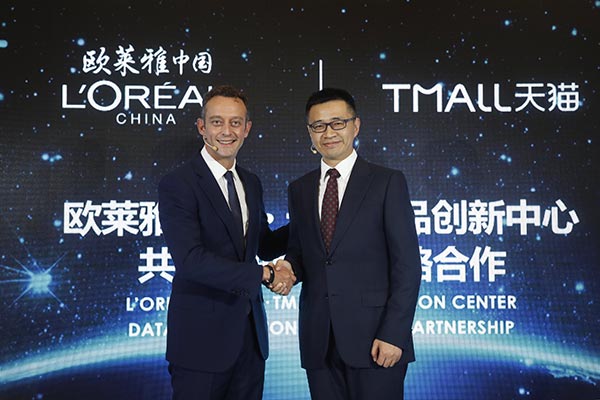 Men are the new target group of the beauty sector. And China is the market they are targeting, if one looks at recent developments.
On Sept 28 in Hangzhou, L'Oreal China entered a data innovation strategic partnership with the Product Innovation Center of Tmall.
The pact between the global consumer brand and one of the largest e-commerce platforms in China intends to derive insights from consumer data, and use them to spur innovation in product customization, marketing strategy, and omnichannel solutions. And the final goal will be providing personalized products and services.
Both L'Oreal and Tmall see the men's beauty care category as the future, and jointly released a report that focuses on men's consumption and behavior.
For starters, the L'Oreal group launched five brands-L'Oreal Men; Biotherm; Kiehl's; Clarisonic; and House 99-in China on Sept 25, while Tmall had Super Experience Week in order to help male consumers find products they want and need.
Meanwhile, according to the report, the number of male consumers who purchase personal care products on Tmall has grown 47 percent from 2017, while the increase in female is customers is 31 percent.
The report also says that as the use of cosmetics moves from its traditional course-used almost exclusively by women-to have increasing adoption by men some male users see this as a way to enhance self-confidence and self-discipline.
Spotting this trend, L'Oreal China teamed up with Tmall to analyze consumer behavior and divide Chinese men into five personality types.
The types include men who are loyal fans of professional personal care products and cosmetics (18 percent); men who pay close attention to the quality of his mouth care and perfume (10 percent); those obsessed with their hai style (6 percent); those who take care of their faces with masks, lotions, sunscreens and makeup including lipstick, foundation cream and eyebrow pencils.
The majority, who form 58 percent, however, are called King Kong Straight Man in the report. And they focus on caring for the family instead.
They show no clear interest in personal care. And this group can be easily manipulated by the market due to their lack of related knowledge and the realization of their own demands.
Consumer insight from such data-driven analysis shows that China's men's grooming market is entering a stage of segmentation. And more consumption is directed to personalized, professional and premium products, instead of basic facial care.
Men's high-end products are also expected to become the category with highest growth potential in the cosmetics market.
Riding on this growing consumer demand, L'Oreal China is entering the market with both new products and new experiences.
For instance, House 99, jointly founded by the L'Oreal Group and soccer icon David Beckham, available on Tmall, offers a wide range of skin care, body care, hair care, hair styling, shaving and other products. And it not only fills the gaps in L'Oreal's men's grooming products, but also intends to create an open and inclusive men's grooming community in China.
At the same time, in order to transform the insight of the analysis into a real experiences for consumers, L'Oreal China and Tmall created the first Super Experience Week-using big data to empower both online and offline retail.
For the online platform, Ali Big Data was used to capture potential consumers, separate them in into the five groups mentioned above, and personalize the marketing through targeted free trials.
For offline retail, they set up a store called Men's Institute, which allowed users to experience services including skin detection; and showcased a machine that changes one's hair style in an image with one click-supported by AR technology.
Speaking about the L'Oreal agreement, Jing Jie, the president of Tmall, says, "In the future, consumers and brands, online and offline, will be all linked by data. And through deep insight from big data, we can truly enter the world of consumers.
"On the one hand we can use the insight to greatly increase supply chain efficiency and introduce personalized and innovative products, while on the other, we can feed consumers with more information and more fun, thus creating more demand.
"We believe that this will create a new digital operation model and bring unprecedented benefits to consumers."
As for L'Oreal China CEO Stephane Rinderknech, he says: "By adhering to our mission of 'offering beauty for all', consumers are the core of our unswerving commitment.
"For our business, big data and consumer insights are the thrust to re-engineer the value chain of products, marketing and distribution.
"For the consumers, big data helps them make informed choices and thus further create business growth.
"By combining Alibaba's platform resources with L'Oreal's brand, we are confident that we will continue to ride the waves in the revolution of digital transformation.
"We seek to innovate in China, innovate for China, and satisfy the consumers' growing and increasingly diverse demand for beauty."