Getting them to the saddle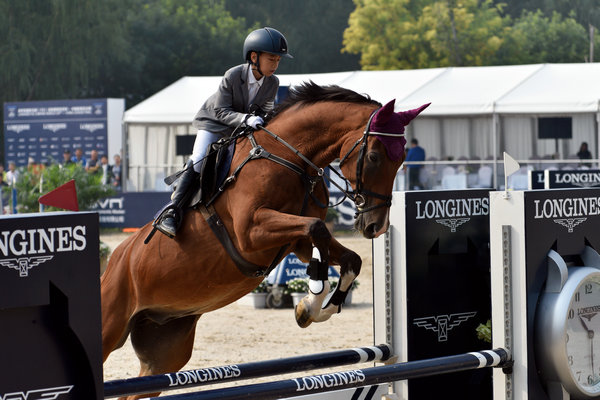 Three-year-old Cheng Zexuan dressed like a clown and sitting on a pony parades together with seven other kids in the center of the National Stadium, also known as the Bird's Nest.
It is a pony cosplay held during the interval of the Equestrian Beijing Masters-eight kids aged from 3 to 7, dressed as different cartoon characters, ride ponies on the field.
Zexuan learned to ride when he was 28 months old, and this year he got his own horse named Lulu.
According to Cheng Zhi, Zexuan's father, he now has three riding lessons a week, with each class lasting two hours.
"He has learned how to clean a horse and can jump over easy barriers," says Cheng.
"When I was young, I sometimes rode on the grasslands, but never learned to ride professionally, so I hope he can learn a new skill, and riding becomes a hobby for him in the future."
The 8th Longines Equestrian Beijing Masters was held at the Bird's Nest from Oct 12 to 14, attracting a record-breaking 251 competitors.
It's a show-jumping competition which requires the rider and horse to complete the required courses in the correct sequence and within the allowed time.
This year's competitions included the Longines Grand Prix (obstacle height 150 cm), the BMW Elite Class (135 cm), the Team Championship (125 cm), the Dashing Challenge (110 cm), the BMW Drive & Jump Competition, and the U14 Rising (60 cm).
Ingmar de Vos, president of the International Equestrian Federation, says there is a real thirst in China for new events and innovative ways to develop the sport to entice new audiences and attract world-renowned riders.
"For China's up-and-coming athletes, this is their opportunity to learn and observe from the best, while for the audience, it is a master class in equestrian savoir-faire," says De Vos.
The U14 Rising, for riders under 14, was held for the first time, attracting 36 young riders.
Zhao Yi'an, 13, ranked 8th in the competition at 26.91 seconds and no penalties.
For seven years, Yi'an had been in the audience at the Bird's Nest watching professional riders compete, but this year, she got a chance to ride.
"Finally I can jump inside the Bird's Nest!" says Yi'an, who didn't feel any tension as she was so focused on her riding.
Yi'an says that when she was first taken to the grasslands to see her father ride a horse she was only 2 years old, and that she fell in love with horses right away.
She begged her father to teach her how to ride since then, but it wasn't until she turned 7 that her parents agreed to let her ride.
Now Yi'an trains three times a week, and each session lasts for three to four hours.
"I don't feel tired because I love riding. My training is systematic and I'm practicing basic skills under my coach's direction," says Yi'an.
"He tells me to ride different horses in each session to improve my skills."
Before the competition, her coach Dong Fei studied the course and designed a route for her, finding the best angle to jump the barriers in the least time.
Frank Rothenberger from Germany is the course designer, who has witnessed the sport grow in China since 2011.
"For me the Bird's Nest is one of the most spectacular venues in the world. It is fantastic being able to stage a show-jumping competition here," says Rothenberger.