Xi calls China, Russia the key forces in promoting world peace, stability
Share - WeChat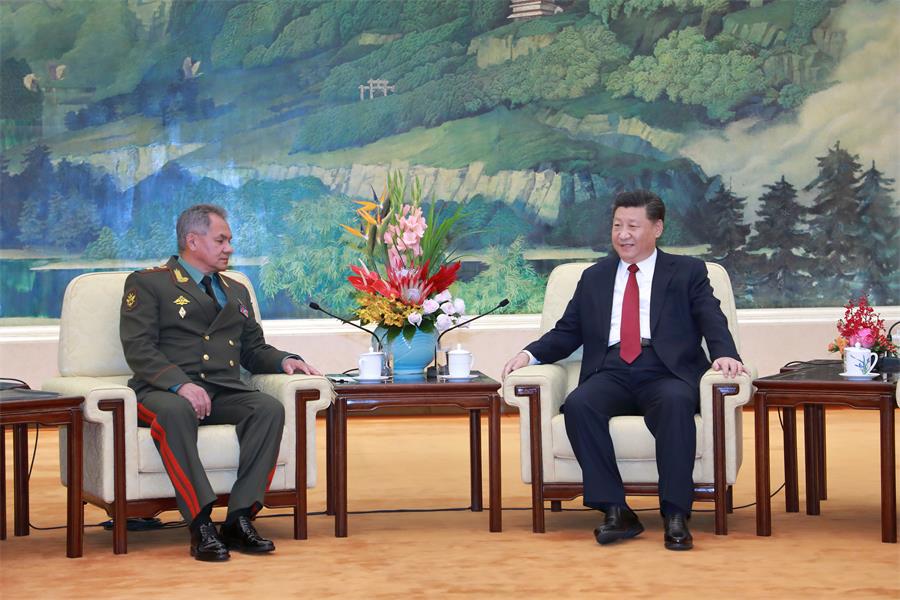 China and Russia have become the key factors and constructive forces in promoting world peace and stability, setting a good example of relations between major countries and neighboring countries, President Xi Jinping said on Friday.
He made the remarks while meeting with Russian Defense Minister Sergey Shoygu, who extended cordial greetings to Xi from Russian President Vladimir Putin.
Xi called for the two countries to deepen strategic coordination and serve as the ballast for stabilizing the international order so as to safeguard individual and common interests.
International morality and the trend of the times will stand with countries and people who love peace all over the world, he said.
Xi said the China-Russia relationship has continued its high-level development this year, with political mutual trust hitting an all-time high.
Xi and Putin have met three times over the past nearly five months, with the latest meeting in September, when Xi attended the fourth Eastern Economic Forum in Vladivostok, Russia.
China will use the opportunity next year of the 70th anniversary of the establishment of bilateral diplomatic ties to work with Russia and enhance comprehensive coordination and mutual support, thus promoting the comprehensive strategic partnership of coordination and better benefiting their peoples, he said.
The president also said the military relationship between China and Russia is a significant symbol that reflects the high level and special nature of the China-Russia relationship, and also is the highlight and pillar of their bilateral strategic cooperation.
In recent years, the two militaries have deepened cooperation in various areas such as joint drills and battle training.
From August to September, China sent 3,200 soldiers, along with more than 1,000 pieces of weaponry and 30 fixed-wing aircraft and helicopters, to participate in Russia's Vostok 2018 military drills, which were the largest of their kind in modern Russia's history and involved nearly 300,000 Russian troops.
Xi said the two militaries should enhance cooperation and focus on addressing common security threats and creating a favorable external environment for the two countries' national development and rejuvenation, to provide strong support for the bilateral relationship.
Shoygu said the strategic guidance of Xi and Putin lays the foundation for deepening the Russia-China comprehensive strategic partnership of coordination.
Russia highly values the relations between the two countries and their militaries and stands ready to improve bilateral military cooperation with China and jointly improve the capability to deal with various security challenges, thus contributing to safeguarding common interests as well as global peace and stability, he said.
Shoygu is the second Russian guest with whom Xi met in three days.
On Wednesday, Xi met with Anton Vaino, chief of staff of the Presidential Executive Office of the Russian Federation.