Onus on Abe to bridge historical divide
Share - WeChat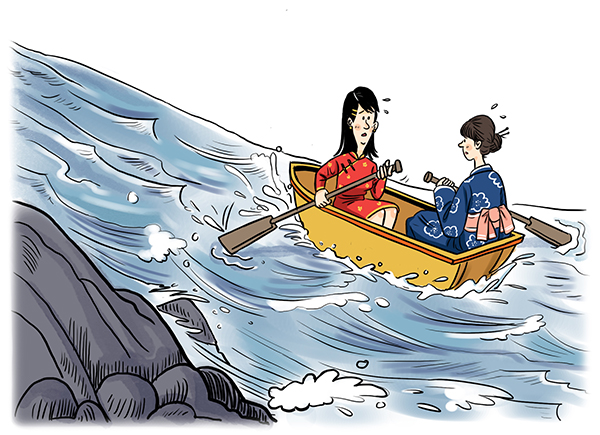 At the invitation of Premier Li Keqiang, Japanese Prime Minister Shinzo Abe is due to pay an official visit to China on Oct 25-27, the first official visit to China by a Japanese prime minister since Yoshihiko Noda's visit in 2011.
That Abe's visit coincides with the 40th anniversary of the enactment of the China-Japan Treaty of Peace and Friendship on Oct 23, 1978, is of significance to the two neighbors whose ties have experienced twists and turns in recent years. During his visit, Abe is due to meet Chinese leaders and exchange views with them on improving bilateral ties and other international and regional issues of common concern.
Such direct high-level dialogue is crucial for healthy bilateral ties. But given the sensitivity and volatility of relations between the two neighbors, whether the nascent positive momentum will continue or once again come a standstill as it has in the past remains to be seen.
Abe's views on history remain a stumbling block for the development of China-Japan relations.
After his election as Japan's prime minister the first time in September 2006, Abe soon paid a formal visit to China in what was widely viewed as an ice-breaking trip to break the diplomatic stalemate caused by his predecessor Junichiro Koizumi.
However, re-elected Abe two years later made an abrupt about face in his approach, adopting a tough stance toward China. Abe inherited his grandfather Nobusuke Kishi's rightist conservative thinking and failed to free himself from the reins of the history issue, as indicated by him openly challenging the legitimacy of the Tokyo trial, denying Japan's war of aggression against its neighbors, denouncing the issue of "comfort women" as a fabrication, and advocating extricating Japan from the post-World War II arrangement. The pilgrimage paid by him to controversial Yasukuni Shrine on Dec 26, 2013, plunged Sino-Japanese ties even lower.
Abe's election for the third time and fourth time in December 2014 and November 2017 respectively have kept the continuity of Japan's diplomacy, but his wrong view of history also make it difficult for China and Japan to achieve real reconciliation on history issues, so they lack a political basis for sincere cooperation.
As far back as the Tang Dynasty (618-907), China and Japan were good neighbors. But due to incomplete capitalist reform after the Meiji Restoration, Japan embarked on a militarist road and foreign expansion and aggression, including aggression against China. The history of Japan's invasion of China and its erroneous view of history thus create a huge barrier for Japan to cross to bring ties with China onto the track of normal development.
In 2010, China's GDP surpassed that of Japan and it became the world's second-largest economy, and its comprehensive national strength has overtaken Japan's and the gap continues to widen. China's rise has fueled and deepened suspicions among the Japanese elite about where its neighbor will go. This makes it particularly important for the two countries to work to avoid being caught in the Thucydides trap.
Japan's aggression against East Asia nations caused untold sufferings to them, so Japanese leaders should not keep being elusive toward the truth of the historical issues. However, most Japanese governments since the end of World War II have tried to shirk their responsibility, deny Japan's acts of aggression and even glorify that history, such as by the repeated visits made by Japan's politicians to the Yasukuni Shrine and the falsification of Japanese history textbooks.
It is hoped that during Abe's upcoming visit to China, he can sincerely discuss with Chinese leaders the history issue, as well as others, aside from talking about cooperation in specific areas. Only in this way can China and Japan possibly step over the long-existing "historical divide" in their relationship and promote a brighter future for their relations.
If China and Japan want their thawing tensions to bear autumn fruit, they need to candidly discuss the past experiences and the lessons to be learned and treat bilateral relations in a mature and rational manner.
Apart from greater efforts to enhance mutual trust and nurture friendship among their peoples, the two countries should uphold the win-win cooperation and work together to build an East Asian Community. Economic ties, although an "anchor" of China-Japan relations for a long time, are not enough on their own to advance bilateral ties, and they should also give full play to their complementary advantages, and actively forge a solid foundation in political, economic, cultural and security realms.
Given its foreign policies on some key issues related to China, such as the Diaoyu Islands and the Taiwan Question, as well as its role in the United States' strategy toward China, there is a particular need for Japan, on the basis of the spirits enshrined in the signed political documents with China, to properly handle sensitive issues and conflicts of interest.
The authors are researchers at the Japan Institute of Naikai University.
Most Viewed in 24 Hours
China Views