International students compete in clinical skills in China
Share - WeChat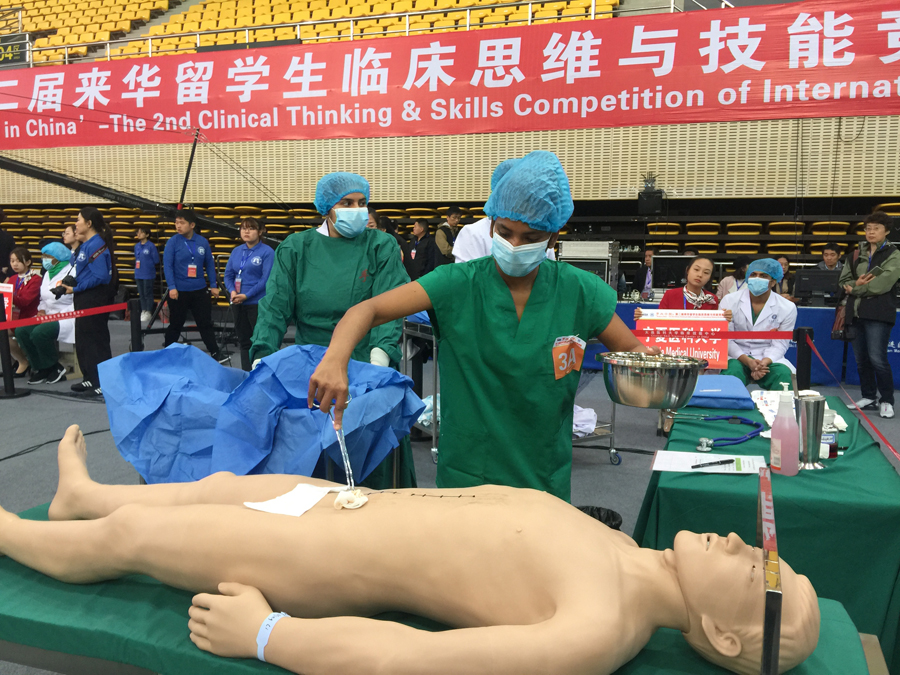 "We must train international medical students to become qualified doctors, which is not only crucial for their countries' medical profession, but also can help promote the Belt and Road Initiative," a medical education expert said.
Chi Baorong, professor of the First Affiliated Hospital of Jilin University, made the remark on Saturday during the Study in China - The Second Clinical Thinking and Skills Competition of International Medical Students, held at Dalian Medical University in Northeast China's Liaoning province.
Chi also is the chief arbitrator of this competition. She said life matters, and doctors confront life, so medical education must be serious and meticulous.
"The international medical students behaved well and operated normally during the competition," she said. " Students' progress has well-reflected the quality of teaching."
The competition course is divided into preliminary and final sections, covering subjects of internal medicine, surgery, obstetrics, gynecology, pediatrics, infection and emergency treatment. All students participating have completed studying cardiopulmonary resuscitation, abdominal punctures, child nutrition, dressing changes, clinical thinking, patient-centered care and standardized clinical operations.
Chi said the international medical students were unhurried, acting according to standards of clinical medicine and showed an excellent spirit of caring during the treatment.
"Through the competition, the clinical skills of international medical students will be improved, and the development and sharing of international medical education will be promoted under the background of the Belt and Road Initiative," she said.