Top survival expert Bear Grylls launches outdoor event for children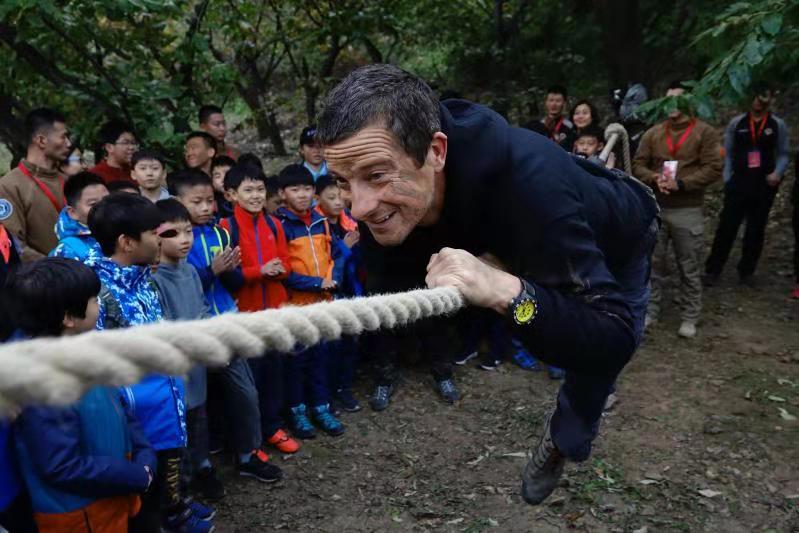 Bear Grylls, known as the world leading wild survival expert, launched his first outdoor event "Go Adventure with Bear" with young readers in China.
The event was sponsored by Jieli Publishing House and UNIstyle magazine, involving the completion of a mission survival activity with 35 children from 8-14 years old on Oct 10 in Beijing.
Grylls and Jieli Publishing have published the Chinese version of Survival Skills Handbook Series since 2014. The series is targeted readers aged between 7 and 12 years old and has categorized survival skills in 24 kinds with practical tips and graphics. The Chinese version of the book has sold 9.68 million copies.
Grylls said Chinese young people want to learn and experience and grow.
"They want to travel and explore," he said. "To encourage them, our job as parents and teachers is to make sure their safety by preparing them for danger and to teach them how to manage and deal with risk."
His tips to survive in the wild include: positivity, courageous, resourceful, determination and never give up.
Grylls said mud is the most important thing in this world. He grouped the young readers in pairs and told them to smear the mud on each other's face. He used canvas, poles and ropes to demonstrate how to set up a shelter.
Activities also include providing young readers of so-called "gift of nature" -- foods containing plenty of protein – worms. Grylls got a maggot and demonstrated how to eat it. Grylls has taught two children how to use ropes to cross the steep path in mountains.