US approach at UN not expected to change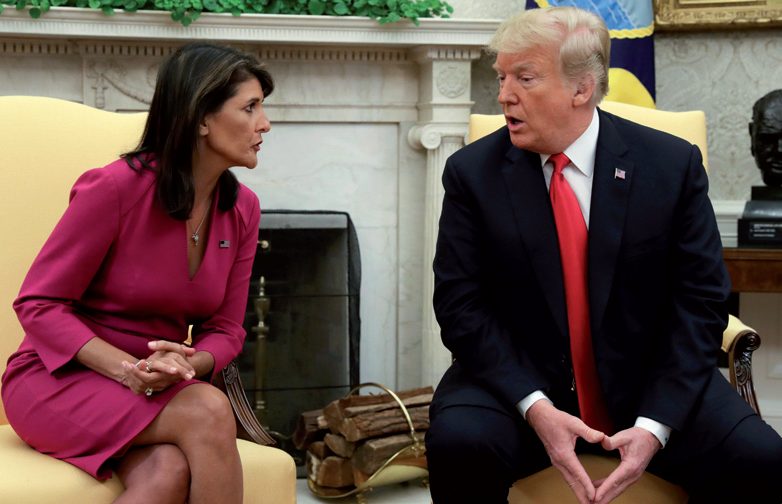 WASHINGTON / UNITED NATIONS — The resignation of Nikki Haley as US ambassador to the United Nations likely won't result in a change in the American approach toward countries it views as competitors, according to some experts.
"I fully expect that the next US ambassador to the UN will continue Trump's provocative foreign policy," Jon Taylor, a professor of political science of the University of St. Thomas in Houston, told China Daily.
"In this respect, Haley's departure is relatively meaningless as long as Trump is president, because his adversarial approach drives American foreign policy," Taylor said.
He said it was "a surprising resignation, but does little to move the US away from its chaotic, 'America First,' inward-looking foreign policy. Haley was, like the US, isolated at the UN and within the Trump administration. Her approach, which mirrored Trump's policies, had a mixed record of success and failure."
Douglas H. Paal, vice-president of the Asia Program at the Carnegie Endowment for International Peace, said "it all depends on who is selected to replace her, and whom that person represents in an administration of divided foreign policy perspectives".
"In any event, former ambassador to the UN (John) Bolton may have a substantial say, and his views would be very critical of the UN as an institution."
Bolton is now Trump's national security advisor.
Haley said that she was resigning but dismissed speculation that she might challenge US President Donald Trump in the 2020 election.
Sitting beside Trump in the Oval Office, Haley said her 18 months at the United Nations have been "an honor of a lifetime" and that she would stay on until year-end.
Trump said Haley had told him six months ago that she was thinking of leaving by the end of the year.
"She has done an incredible job. She is a fantastic person, very importantly, but she also is somebody that gets it," Trump said.
Haley, 46, a former governor of South Carolina and the daughter of Indian immigrants, is the highest profile woman in Trump's Cabinet. She criticized Trump during the 2016 election campaign but has been the face of his policies at the UN, steering the US withdrawal from several UN programs and ardently defending his hard-line policies against Iran and the Democratic People's Republic of Korea over their nuclear programs.
In her resignation letter to Trump, Haley said that she would "surely not be a candidate for any office in 2020" and would instead support his re-election bid. She referred to returning to the private sector, and some media reports said she had debts to pay off.
Speaking to reporters later on Tuesday aboard Air Force One, Trump said he had five people on his short list for UN envoy, including former White House adviser Dina Powell, a friend of Haley's.
Trump's eldest daughter Ivanka, who is a senior adviser to her father, ruled herself out of consideration in a Twitter post.
Powell served in the first year of the Trump administration as the deputy national security adviser for strategy and was a key player in diplomatic efforts in the Middle East. She returned to Goldman Sachs, where she worked for more than a decade, earlier this year.
Haley's name has come up as possible Republican running mate in the last two presidential elections and she also could become a US senator if fellow South Carolina Republican Lindsey Graham takes a job in the Trump administration, as is speculated.
Haley has long taken a tougher public stance on Russia than Trump, who has sought better relations with President Vladimir Putin.
CHINA DAILY — REUTERS