OCT promotes cultural travel with late-autumn festival program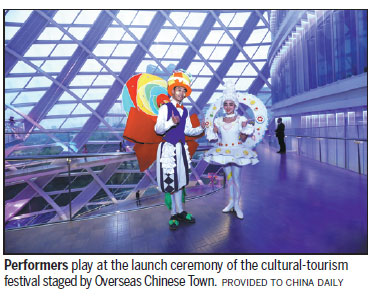 More than 200 programs in over 50 cities across the country are expected to sweep visitors off their feet during an upcoming cultural-tourism festival.
The festival will run from October to November, and was initiated by the State-owned company, Overseas Chinese Town.
The programs will be staged in the company's 50 theme parks, special towns and villages, and art facilities to ensure satisfaction of different tourists' tastes.
"We decided to host the OCT cultural tourism festival in autumn to celebrate the upcoming 34th birthday of the company," says Yao Jun, OCT's general manager.
Founded in Guangdong province's Shenzhen in 1985, the company has welcomed 400 million visitors so far, Yao says.
Last year, the company hosted 50 million tourists, ranking as the fourth most-popular attraction worldwide and the No 1 in Asia - an accolade OCT has held for six consecutive years, according to the US-based Themed Entertainment Association.
Its Happy Valley brand has ranked among China's most-celebrated amusement parks, with sites in Shanghai, Shenzhen, Chongqing, Chengdu, Wuhan and Tianjin.
More than 10 programs, including international magician and street-art festivals, will be staged at Happy Valley parks during the festival.
The Windows of the World in Shenzhen integrates historical sites, folk dances and culture from all around the globe and will roll out an Australian carnival event during the festival.
For those who want to better understand China's ethnic cultures, the China Folk Culture Villages resort in Shenzhen offers a closer look into the celebrations and customs of 56 Chinese ethnic groups.
Among OCT's special towns, Sichuan province's Anren is set to host a global qipao (a formfitting Chinese dress) design competition, and Shenzhen's Gankeng will offer a lantern show during the two-month festival.
International-film exhibitions will also be held in Shanxi province's Pingyao in mid-October.
A special focus has also been placed on Yunnan province.
Hot air ballooning, children's paragliding and parent-child games have been prepared at OCT's Yangzonghai Lake resort in Kunming.
The Kunming World Horticultural Expo Garden will also host an international-film week, hiking events and a series of celebrations for Halloween.
The international tent festival and distinctive ethnic elements will be highlights of the Jiuxiang scenic spot, while visitors can farm a terraced field in Yuanyang county in Yunnan.
OCT will also put on a classic stage opera and other shows to entertain vacationers.
The company has developed more than 60 original shows since the 1990s, and a selection of classics will be lined up for the public to enjoy at OCT's facilities in Beijing, Shanghai, Shenzhen and Kunming during the festival.
In particular, a new show highlighting the development of the Chinese nation is slated to be presented at Shenzhen's Windows of the World.
The company launched an online-booking system, Huacheng Travel, for all of its facilities in late September.
`