Sayonara Tsukiji as exodus of famed fish market begins
Businesses bid emotional farewell to Tokyo institution ahead of move to new site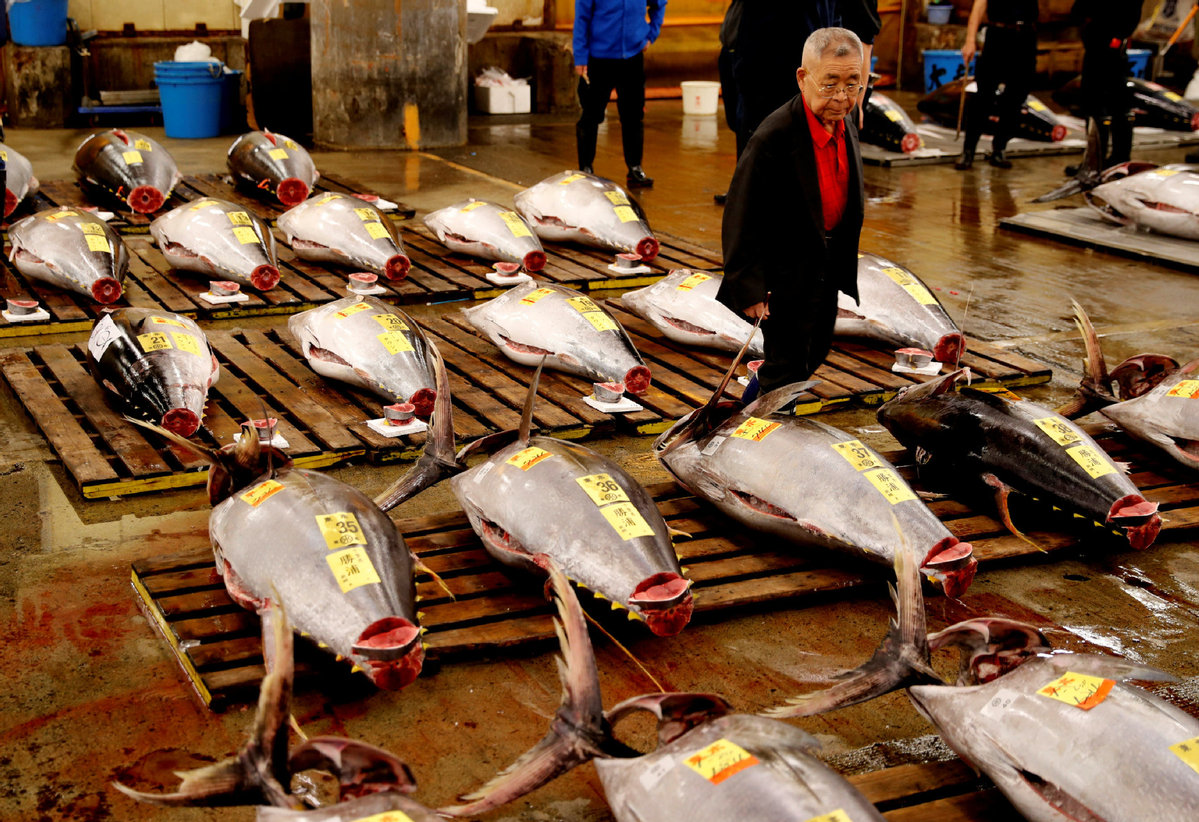 TOKYO - Hundreds of fishmongers on forklifts and trucks rose before dawn in Tokyo to join a mammoth exodus of vendors as the world-famous Tsukiji market relocates to a new site.
In small vehicles and the market's "turret trucks" - one-man flatbeds with a barrelshaped steering column at the front - they drove out of the Tsukiji site one last time, headed for Toyosu, the market's new home.
The main bridge out from the market was closed to traffic for the move, with security guards in place to wave along the leaving wholesalers who drove in orderly lines between safety cones topped with flashing red and green lights.
Hundreds of the 900 businesses that once handled 480 kinds of seafood worth $14 million daily - as well as 270 types of fruits and vegetables - are relocating.
A total of 2,600 turret trucks and forklifts will drive just over 2 kilometers from Tsukiji to the new site over a period of five days, according to the Tokyo metropolitan government.
The move began a day after fishmongers gathered before dawn for the final tuna auction.
It was an emotional moment for veterans of the market, the beating heart of Tokyo's culinary scene for decades, which many acknowledged had become too rundown to support its mammoth operations.
"I'm almost crying," said Hisao Ishii, a retired seafood auctioneer who was back at the market for its final day.
"Today is a sad day of goodbyes. Tsukiji tried to meet the times, but it is getting older," the 68-year-old added. "I came here today to tell Tsukiji thank you and goodbye."
The 83-year-old market's move has been in the works for decades, prompted by its rundown state, but it has been a lengthy and controversial process, hindered by pollution rows and construction delays.
The discovery of soil contamination at Toyosu, formerly home to a gas plant, sparked safety fears about the new site and forced local authorities to spend millions of dollars to clean up the area.
Bitter taste for some
After experts declared Toyosu safe, the Tokyo governor took the final decision to move the market there in late 2017, ending years of delays.
But while the new site promises state-of-the-art refrigeration and will keep gawping tourists away from the business of the market in a gallery behind glass, the move has still left a bitter taste for some.
"I feel nostalgic as Tsukiji has been my home ground for 15 years. We are sad to lose the Tsukiji brand," vegetable wholesaler Tsukasa Kujirai said on Saturday.
Opened in 1935, Tsukiji was for many years known only to its vendors and the food industry, but it gained international renown in recent decades and its tuna auctions even hit the headlines, with one fish going for a record $1.8 million at the market's New Year's auction in 2013.
The highest bidder at Saturday's final auction paid 4.4 million yen ($38,700) for a bluefin tuna weighing 162 kilograms caught off Aomori, northern Japan.
Toyosu will officially throw open its doors on Oct 11.
Agence France - presse