Youth league takes aim at student union bureaucracy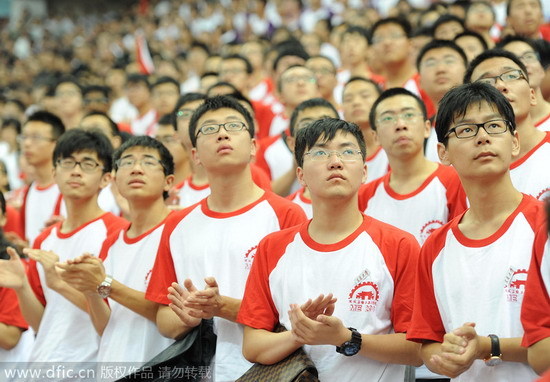 The Communist Youth League of China will adopt more measures to curb bureaucratic excesses at university student unions, China National Radio reported on Sunday.

Li Ji, director of the School Department of the Central Committee of the Communist Youth League of China, said in an interview with CNR that there have been several problematic incidents in student unions.

There should be more specific regulations in the election, training, management and evaluation of student union leaders, Li said.

Forty-one universities jointly agreed on Saturday to oppose bureaucratic practices at student unions, a statement published by the youth league on Sina Weibo said.

"The purpose of student unions is to serve students. Student union leaders should not seek personal interests, and we oppose formalism, extravagance and selfishness," the statement said.

On Oct 1, a screenshot of an online chat showed two members from a student union at Chengdu Aeronautic Polytechnic in Sichuan province reprimanding a younger peer for not using a sufficiently respectful title when addressing the union's vice-president, surnamed Yang.

The student tagged Yang on the union's QQ chat group to inquire about a meeting and addressed him as xuezhang, or "elder schoolmate".

"How dare you tag president Yang. And did you just call him xuezhang? I don't want to see that again," replied one of the group's managers, surnamed Yuan, who later added, "Do you have any idea what you're doing?"

Another group manager, surnamed Liu, sent a cautionary message to the entire group, "To all junior members, please know your place and mind how you speak."

The school published a statement on Tuesday saying that the two group managers had reflected on their faults and promised to rectify their behavior.
The incident has attracted attention on social media, where it has resonated with netizens who faced similar situations while at university.

This is not the first time students from a Chinese university have been accused of making power plays. Last month, senior female students at the Civil Aviation Flight University, also in Sichuan, were alleged to have bullied classmates by controlling what they wore, how they ate, and whom they ate with.

In July, Sun Yat-sen University in Guangdong province was criticized for assigning bureaucratic ranks to the members of its student union.

The Students' Union of Sun Yat-sen University had more than 200 leaders, on three levels, including many labeled "ministerial level" or "vice-ministerial level", something that reminded people of government officials.