Kim, Pompeo hold talks on summit
DPRK and US make 'progress' on stalemate but more work needed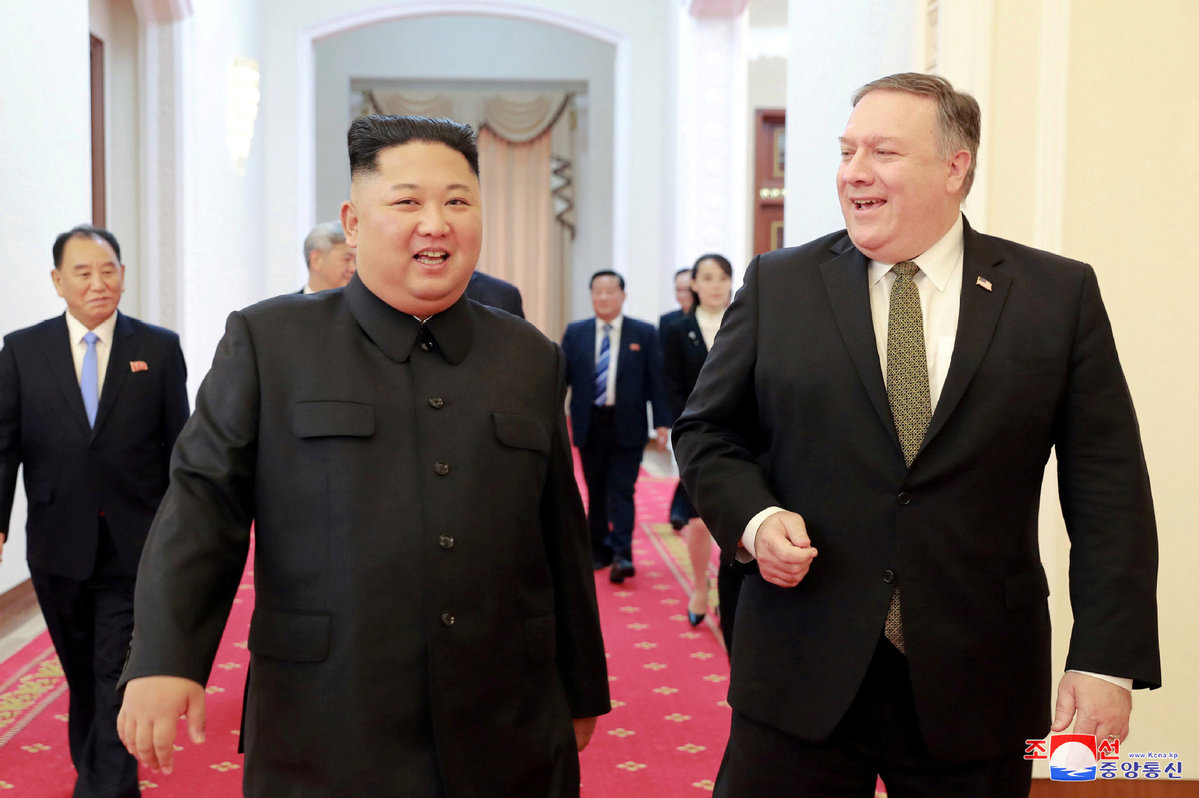 US Secretary of State Mike Pompeo's fourth visit to the Democratic People's Republic of Korea on Sunday was expected to pave the way for a second US-DPRK summit, as Washington and Pyongyang try find a breakthrough in the stalled denuclearization negotiations.
Pompeo tweeted on Sunday afternoon that he had met with the top leader of the DPRK, Kim Jong-un, and that they "continue to make progress on agreements made at Singapore Summit".
A US official who was part of Pompeo's delegation, said the trip went "better than the last time" but further efforts were needed, according to Reuters.
Before departure, Pompeo told reporters that the trip's aim was to "develop sufficient trust" between Washington and Pyongyang to inch towards peace.
"Then we are also going to set up the next summit," Pompeo said, while he played down expectations of a breakthrough.
"I doubt we will get it nailed but begin to develop options for both location and timing for when Chairman Kim will meet with the president again. Maybe we will get further than that," he said.
Observers said progress is expected to help revive denuclearization talks and set details for the planned second summit between Kim and US President Donald Trump.
Wang Junsheng, an associate researcher at the Chinese Academy of Social Sciences, said a second summit is of great significance for the negotiations of specific issues in the denuclearization process. But it is vital that the US should show its good will and give concessions in talks rather than pressing unilateral sanctions, he said.
Wang noted that Pyongyang has delivered goodwill gestures in the latest inter-Korean summit as it promised to close its nuclear launch sites and invited international inspectors to witness the process. He said currently the primary and urgent issue is to avoid a reversal of the positive trend of the denuclearization process on the peninsula.
The deadlock needs to be broken between Washington's proposed approach of "complete, verifiable, irreversible dismantlement" of the DPRK's nuclear program and the gradual process of abandonment of its nuclear program insisted on by Pyongyang, he said.
Later on Sunday afternoon, Pompeo arrived in Seoul for a meeting with the Republic of Korea President Moon Jae-in and Foreign Minister Kang Kyung-wha and briefed them on the results of his talks with Kim.
Pompeo began his Asian trip from Tokyo, where he and Japanese Prime Minister Shinzo Abe had exchanged views on the Korean Peninsula issues on Saturday and agreed to continue cooperation.
"We would like to coordinate our policies toward the abductions, nuclear and missile issues," Abe said.
Pompeo, for his part, said that Washington and Tokyo having "a full coordinated, unified view of how to proceed" will be needed for denuclearizing the DPRK.
He also promised Abe that he would raise the issue of Japanese nationals allegedly abducted by the DPRK in the 1970s and 1980s during his visit to the DPRK, according to the Japanese Foreign Ministry, Xinhua reported.
Pompeo is scheduled to visit Beijing for further talks with Chinese officials on Monday.