Call of the wild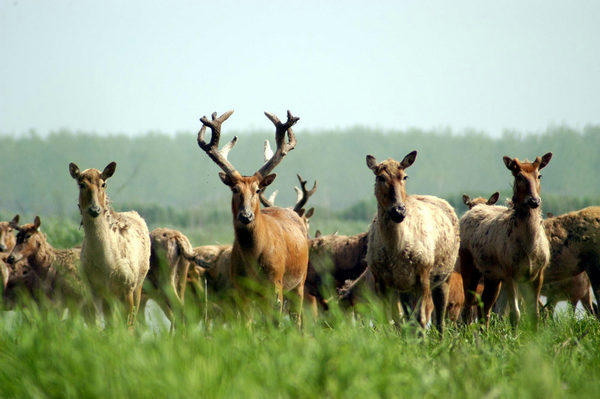 With its miraculous twists and turns, the fate of the China's milu deer has long been an intriguing prospect for researchers and animal lovers alike.
Once extinct on its native soil and with only 18 individuals remaining in the world, the milu-which is also known as Pere David's deer in the West-has witnessed a remarkable revival after efforts to reintroduce the species began a few decades ago.
The International Union for Conservation of Nature believes the reintroduction program of the milu is one of the 15 most successful programs out of 138 similar projects carried out worldwide.
A Chinese totem
The milu, which is often referred to in China by its ancient name, the "four dislikes", because of its body features which resemble a combination of four other animals (the cow, deer, camel and horse), is a species of deer that's recognizable by its unique, rear-facing antlers.
The species is often depicted as a mount in mythology and was believed to be a sign of auspiciousness and symbol for imperial power in ancient China.
"The milu has a long history and has always played an important role in traditional Chinese culture," says Guo Geng, curator of the Nanhaizi Milu Park Museum in Beijing.
The milu was mentioned in early inscriptions on ancient oracle bones, and records about their habitat, distribution, behavior, hunting and uses have appeared in more than 100 historical works since the Han Dynasty (202 BC-AD 220), according to Guo.
While more than a million milu roamed China's wetlands 3,000 years ago, their numbers fell dramatically due to overhunting and the shrinking of nature habitats as the human population grew, especially after the Ming Dynasty (1368-1644).
A herd of about 200 milu-believed to be the last one in the world at that time-was kept at the Nanhaizi Imperial Hunting Lodge near Beijing in the 19th century.