Remarks by H.E. Ambassador Liu Xiaoming
Remarks by H.E. Ambassador Liu Xiaoming at the Concert Celebrating the 69th Anniversary of the Founding of the People's Republic of China and the 25th Anniversary of the Chopsticks Club: A Choral of Cooperation, A Dream of Friendship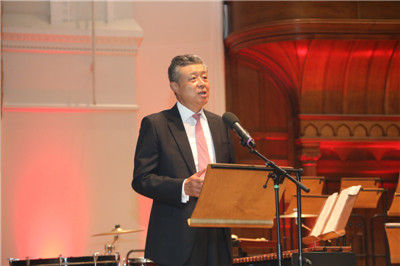 Cadogan Hall, London, 29 September 2018
Ms. H-J Colston and Ms. Theresa Booth,
My Lords,
Ladies and Gentlemen:
Good evening!
It is a real delight to join you at the Chopsticks Club concert. With this concert, we are celebrating two anniversaries: the 69th anniversary of the founding of the People's Republic of China and the 25th anniversary of the Chopsticks Club.
Eight years ago, I attended a Chopsticks Club event for the first time. Since then, the Chopsticks Club has held many wonderful events. A definite highlight of these is the concert celebrating China's National Day.
Tonight, the Chopsticks Choral Society will provide us with a feast of cultural exchange. The music pieces and the inspiration come from traditional Chinese culture, but the composers are from both China and the UK. The songs will be sung in the Chinese language, but the singers are from China, the UK, Europe and America. This reminds me of a well-known line by John Lennon. He said, "A dream you dream alone is only a dream. A dream you dream together is reality."