Keep collections alive: enthusiast builds his own sports museum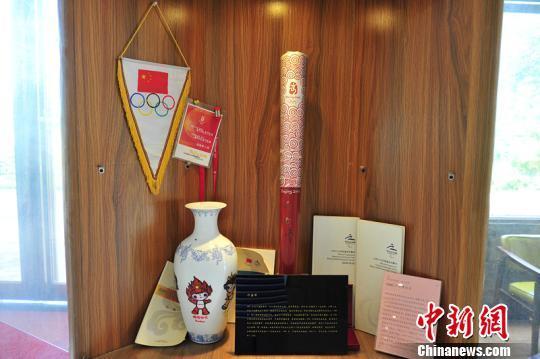 Commemorative badges and banners, stamps, trophies, sneakers and even Olympic torches, all of these can be seen in the Tianfu Sports Museum in Fushan town of Chengmai county, South China's Hainan province.
Covering 1,200 square meters, Tianfu Sports Museum is wowing visitors with more than 2,100 exhibits and the stories behind them. It is the first private sports museum in Hainan, symbolizing the unceasing passion of a sports lover.
The curator, 38-year-old Xie Fei, said he never thought of opening such a museum when he got his first sports-related collection, a pair of Jordan shoes signed by his idol, the all-time great Michael Jordan in 1993, when he was 13.
"At that time I was crazy about basketball. From then on I just can't stop collecting all sorts of sneakers, especially those limited editions," said Xie.
There are also many Olympic-related exhibits which Xie started collecting since 1996, when he watched the opening ceremony of the Atlantic Olympic Games with his own eyes. He said he could still recall the emotional moment when Muhammad Ali, the boxing champion of the 1960 Rome Olympics and a legendary sport figure, lit the Olympic cauldron of the centennial Games, 16 years after he was diagnosed with Parkinson's disease.
"When Ali lit the cauldron, he also ignited fire in my heart," Xie recalled, deeply touched by the story of this boxing legend and the Olympic spirits. That's when he made up his mind to add an Olympic torch to his private sports collections.