Xi hails effort to improve global governance
Share - WeChat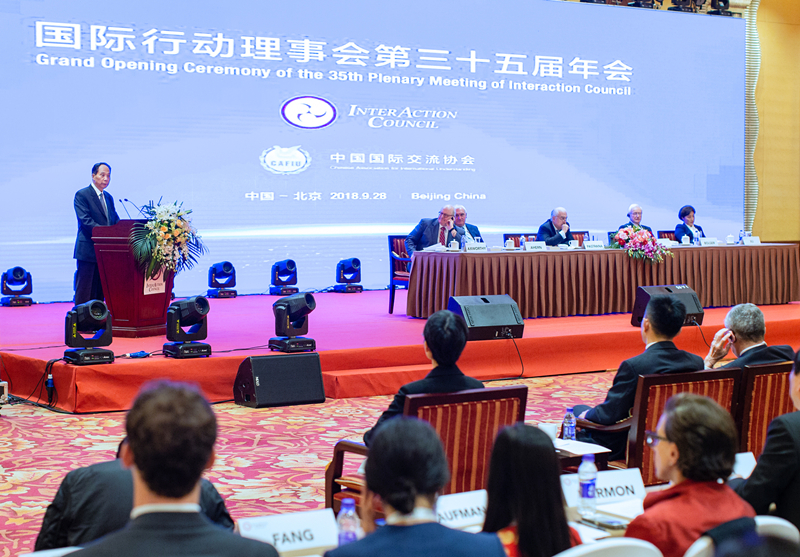 President welcomes council made up of former governmental leaders
China, a staunch supporter of multilateralism, is ready to work with the international community to improve the global governance system in a bid to create an even brighter future for the world, President Xi Jinping said on Friday.
Xi, also general secretary of the Communist Party of China Central Committee, made the remarks in a congratulatory message to the opening of the 35th annual conference of the InterAction Council in Beijing on Friday.
The council is an independent international organization that brings together more than 40 former heads of state or government to develop recommendations and solutions for political, economic and social problems. The conference concludes on Sunday.
Xi said given that today's world is undergoing profound changes not seen in a century, improving the global governance system not only represents the trend of the times but also constitutes a common task for all countries.
China adheres to the principle of achieving shared growth through consultations and cooperation in engaging in global governance, he said, adding that the country has been endeavoring to build a new type of international relations featuring win-win cooperation as well as a community of a shared future for mankind.
Xi hailed the positive role that the InterAction Council has played in safeguarding world peace and promoting common development. The annual plenary meeting, with a focus on global governance, would be conducive to enhancing the consensus among all parties in the improvement of the global governance system, he said.
Ji Bingxuan, vice-chairman of the Standing Committee of the National People's Congress, read the congratulatory message at the opening ceremony, saying Xi's message showcases how the Communist Party of China and the Chinese government attach crucial importance to the council as well as China's participation in global governance.
Ji expressed the hope that the council will help build the capacity of the international community to deal with global challenges and promote international partnerships, thus making greater contributions to the improvement of global governance.
Former prime minister of Ireland Bertie Ahern, co-chair of the InterAction Council, said at the opening ceremony that the international system is currently under attack from populists with nationalist and isolationist agendas.
Ahern called for defending the existing international system, saying that while it is certainly not perfect, it is crucial.
"The international system deserves to be developed and strengthened in areas where it may have failed in the past, instead of being attacked, ridiculed and torn down," Ahern said.
The council, established in 1983, aims to foster international cooperation and action in three priority areas: peace and security, world economic revitalization and universal ethical standards.