China's visionary approach to a global issue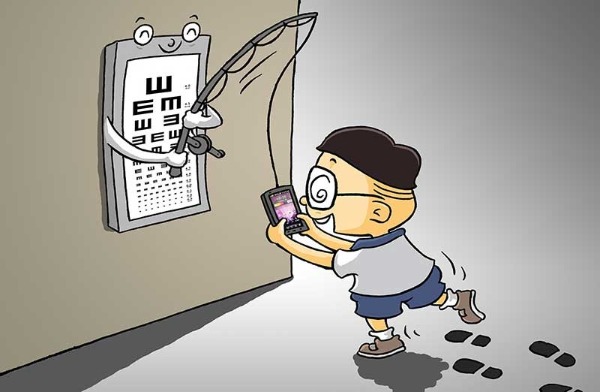 The key to tackling a crisis is to recognize that there is one.
President Xi Jinping has shown great leadership by declaring that poor eyesight has become a national epidemic in China and calling on his people to help address the problem. It is the act of a statesman and it is an intervention that is music to my ears.
It is important that the government of China has adopted a five-year plan for providing "universal eye medical care for everyone and the gradual elimination of avoidable blindness and visual impairment".
For more than a decade now the unaddressed problem of poor vision has been my focus.
Three years ago I set up a charity. Clearly, to try to draw the world's attention to a fact — the sad fact of 2.5 billion people struggling with bad eyesight purely because they have never had an eye test and access to glasses. Some 720 million of those people are in China.
Eyeglasses were invented 700 years ago but a third of the world has missed out on them.
As President Xi said, the number of people suffering from myopia is growing and they are getting younger. His call for his country to be mobilized to deal with it is timely and wise. The world has been slow to recognize this issue.
In a report published earlier this year, I quoted statistics that shortsightedness in China increases dramatically with age, affecting more than half of 10-year-olds, 60 percent of 12-year-olds, 80 percent of 16-year-olds and even surpassing 90 percent among university students.
Xi's remarks have reignited speculation as to the cause of the dangerous increase in myopia, with some suggesting that children's obsession with video games is to blame.
The Chinese government has insisted in the past that children at school should have at least an hour to spend outside because of the belief that lack of exposure to daylight has worsened an already bad situation.
They are on to something — there is good evidence to suggest that time spent in daylight protects children against the shortsightedness. There is mixed evidence on whether "near work", gazing for hours into computers, leads to myopia. I would say that on balance there is no way we can exclude it as a potential cause.
As I stressed in the report, the rate of increase of shortsightedness among Asian children is faster than anywhere else in the world and hence much of the reason appears to be social. A 2012 study of 15,000 children in Beijing found that poor sight was significantly associated with more time spent studying and reading, along with much less time spent outdoors.
I said that new research shows that the last factor — time spent outdoors — is particularly important when it comes to the development of shortsightedness. I concluded that policies that encourage healthy exposure to natural sunlight through outdoor activities should be encouraged.
Now, the leader of the world's most populous country has acknowledged this largely unacknowledged disability. Accepting a problem is one thing, finding a solution another.
But the key solution is at the end of our noses — glasses. My mission has been to find ways of ensuring that we get them to the 2.5 billion who need them, including those 720 million in China.
The four Ds — diagnosis, distribution, dollars (by which we meant the cost) and demand — were identified by the Clearly campaign as the big obstacles that had to be tackled.
And, briefly, these are my proposals based on our conversations with experts across the world. Practitioners should be empowered and restrictions preventing health workers, nurses, teachers and entrepreneurs from carrying out straightforward tasks such as vision screening could be swept away.
The use of smartphones to screen vision must spread across the developing world rather than being confined to certain countries and age groups. According to a report in 2015, China had more than 950 million smartphone users, more than the United States, Brazil and Indonesia combined.
Central and local governments therefore should subsidize the cost of glasses so that all children can get their first pair free. And businesses should think about providing free or subsidized glasses for their workforce. We know that clear vision helps improve productivity so it will pay for itself as well as increasing loyalty to the company.
Exciting Chinese technological developments — for example the 3D printing of glasses, the use of drones for delivery, and artificial intelligence to detect eye disease — must be studied to see how they can help cut the cost of vision testing and getting glasses to the people.
China is the biggest manufacturer of glasses in the world. It should take advantage of this by developing programs to buy glasses in bulk; the cost of a basic pair of glasses need not be much more than 16 yuan ($2.32).
More importantly, we must work to eliminate cultural barriers and China's public education program needs to kill the myth that glasses can worsen eyesight. We must show people, particularly the young, how wearing glasses can positively benefit their lives and careers.
Those are some of the answers. President Xi has ordered action to tackle the crisis. I hope I have provided some food for thought for China's policymakers.
The author is the founder of Clearly, a global campaign to enable access to vision correction for the 2.5 billion people who are deprived of it.
Most Viewed in 24 Hours
China stories