Chinese FM says China willing to deepen all-around cooperation with CELAC
Share - WeChat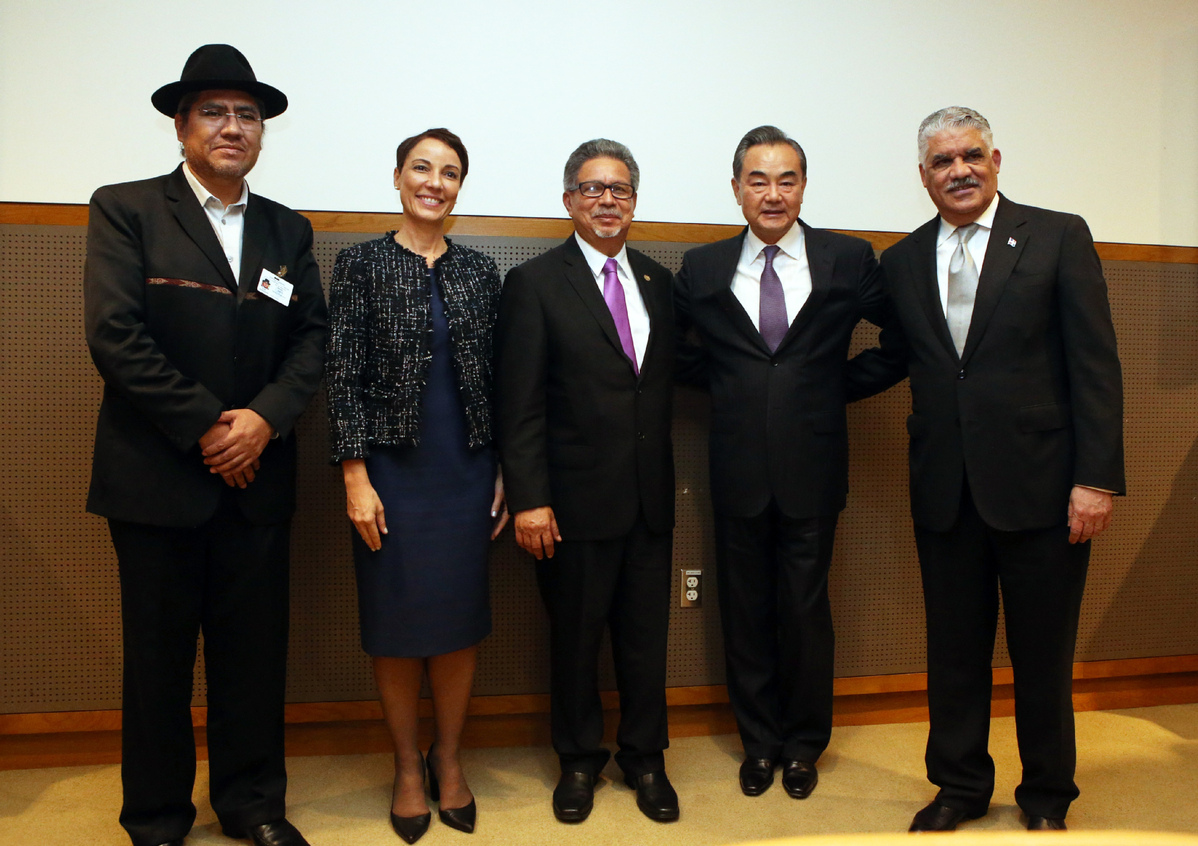 UNITED NATIONS - Chinese State Councilor and Foreign Minister Wang Yi on Tuesday said China is willing to work together with the Community of Latin American and Caribbean States (CELAC) to deepen their all-around cooperation and put forward a four-point proposal for the aim.
Wang made the remarks while meeting with foreign ministers from the CELAC "Quartet."
The Quartet comprises the current, previous and next rotating chairs of the CELAC, as well as the current rotating chair of the Caribbean Community (CARICOM).
In the past five years, Chinese President Xi Jinping have paid three visits to Latin America and met with leaders of almost all countries having diplomatic relations with China in the area, said Wang, noting that the comprehensive cooperative partnership between the two sides has stepped into a new stage.
After more than three years' development, the China-CELAC Forum has become a major platform for both sides to carry out comprehensive cooperation and is serving as a strong support for the building of a community of shared future for China and the CELAC, said Wang.
Specifically, the Chinese foreign minister put forward a four-point proposal for deepening the all-around cooperation between the two sides.
First, the two sides should lead their cooperation with political consensus, promote mutual understanding and firmly support each other's core interests and major concerns, Wang said, calling for a firmer position against unilateralism and trade protectionism and support for multilateralism and free trade system.
Second, concrete actions must be taken to optimize their cooperation. Both sides should accelerate the alignment of their development strategies, deepen their pragmatic cooperation in various fields and push forward the implementation of the Belt and Road Initiative (BRI) in the area, Wang said.
Third, Wang called on the two sides to strengthen people-to-people bond by strengthening cooperation in fields like education, technology, culture, teenagers, tourism, media and hygiene.
Fourth, the two sides should perfect the mechanism within the framework of the China-CELAC Forum to safeguard their cooperation, said Wang.
Next year marks the fifth anniversary of the establishment of China-CELAC Forum. China hopes that both sides take the anniversary as an opportunity to improve the forum, so as to contribute to the higher-quality development of China-CELAC relations.
The Quartet foreign ministers expressed the CELAC's willingness to work together with China to implement the results of the second ministerial meeting of the China-CELAC Forum and broaden their cooperation in fields of trade, investment, poverty reduction, innovation and infrastructure construction.
The CELAC appreciates the China-proposed BRI. Incorporating the CELAC into the construction of the initiative will bring about tangible benefits to the two sides, according to the Quartet foreign ministers.
Representing English-speaking Caribbean countries, Jamaica, the current rotating chair of CARICOM, reiterated their adherence to the one-China policy.