An isolationist US can't get 'great again': China Daily editorial
Share - WeChat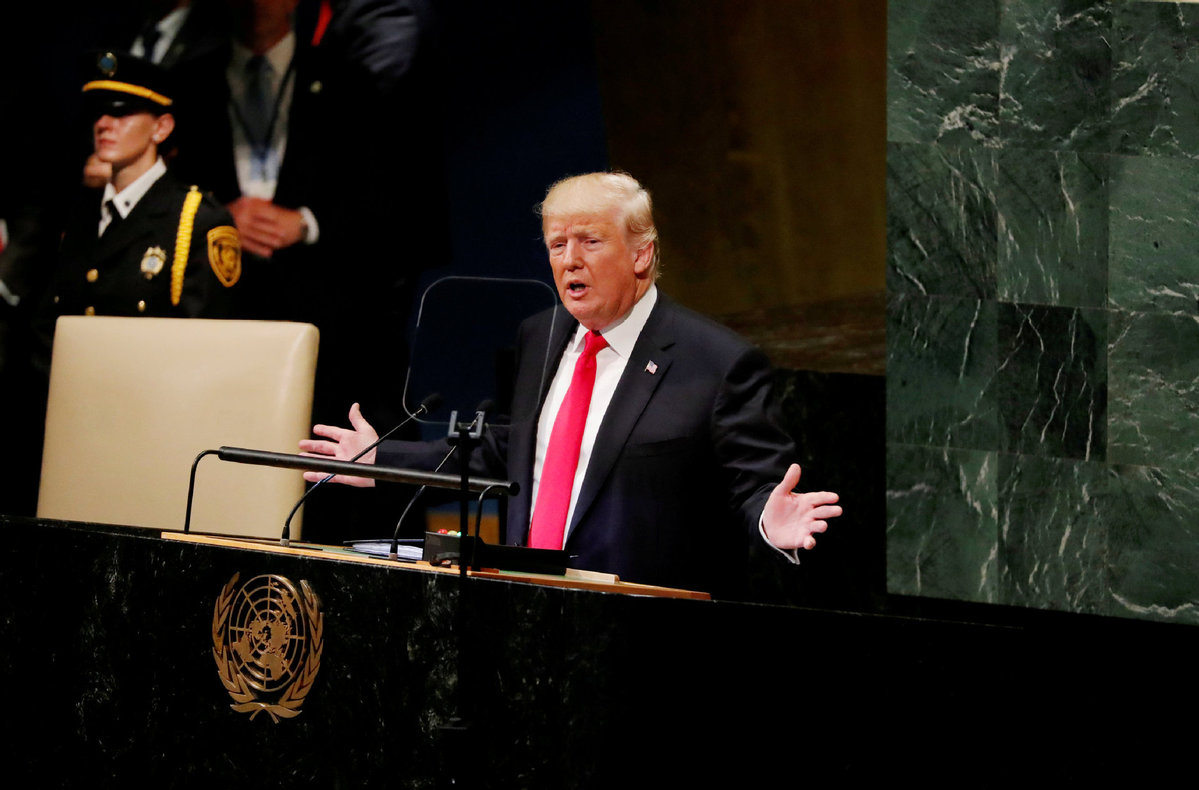 Three years before entering the White House, US President Donald Trump tweeted that his country needs "a president who isn't a laughingstock to the entire world", "a truly great leader, a genius at strategy and winning".
The laughter he drew at the United Nations General Assembly notwithstanding, he is almost there, at least in his own eyes, for his administration "as accomplished more than almost any administration" in US history and "the United States is a stronger, safer and a richer country" than when he assumed office "less than two years ago".
It did not matter to Trump that he was touting his achievements to the wrong audience. His self-gratification may have been a harmless comic episode to the other national leaders and diplomats at the UN General Assembly. But his elaboration of US foreign policy is very bad news for the rest of the world.
What Trump delivered was tantamount to a farewell to the post-World War II world order featuring multilateralism, if not globalism.
Most countries will welcome Trump's statement that "the US will not tell you how to live and work or worship. We only ask that you honor our sovereignty in return". Few would argue against Trump embracing the "doctrine of patriotism". Even "America First" is fine, as long as it does not cause harm to others.
But his rejection of the ideology of "globalism" is contrary to even his own claim that his government is "also standing up for the world". His speech sends a clear message that the US, which in his words will "soon be more powerful than it has ever been before", will go it alone and break away from the global governance regime which it helped build in the first place.
To Trump, the UN, a core institution and platform of postwar global governance, is "an unelected, unaccountable, global bureaucracy" to which his government "will never surrender America's sovereignty".
The "independence and cooperation" Trump seeks is evidently not what multilateral institutions such as the UN stand for. Trump's refusal to accept such longstanding, and mostly effective multilateral global governance mechanisms will cause an immeasurable loss to the international community, and significantly undermine global peace and security as far as such crucial institutions as the UN Security Council are concerned.
French President Emmanuel Macron rightly emphasized that "confronting multilateralism is not a sign of strength, rather it is a symptom of the weakness of intellect".
Macron could also have said, an isolationist and protectionist US cannot go too far in its pursuit of greatness.
Today's Top News
Editor's picks
Most Viewed