Celebrating a legacy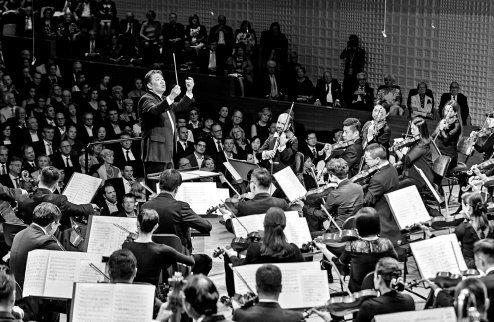 The world's oldest classical music label will mark its 120th anniversary this year with a series of high-profile events, Chen Nan reports.
Deutsche Grammophon, the world's oldest and one of the most renowned classical music labels, will celebrate its 120th anniversary this year.
Among the international programs to mark the special year, the Shanghai Symphony Orchestra will perform a concert at the site of Beijing's historical Imperial Ancestral Temple, which stands just outside the Forbidden City, on Oct 10.
Under the baton of maestro Yu Long, SSO will open the concert with a special arrangement of Chinese composer Liu Tianhua's work, Enchanted Night.
Then the orchestra will perform German composer Carl Orff's Carmina Burana with Russian soprano Aida Garifullina, British tenor Toby Spence and French baritone Ludovic Tezier, before being joined by French pianist Helene Grimaud for Ravel's Piano Concerto in G major.
Norwegian violinist Mari Samuelsen will then take the solo lead in November from neo-classical composer Max Richter's Memoryhouse, a seminal work of contemporary neoclassical composition in 2002.
It will be the first classical music event to be held at the site since 1998, when it held a performance of Turandot, conducted by Zubin Mehta.
"I am thrilled that DG will start its anniversary year with a genuinely historic event in Beijing. It is sure to inspire millions of young people in China and give momentum to the rise of a vast audience here and across the world," says Clemens Trautmann, the president of DG, in Shanghai, adding that millions will be able to watch the concert on TV and digital media online.
Speaking about the repertoire for the concert, Trautmann says the program brings together a wide range of music from different eras and from composers in different countries.
He says the lyrics of Carmina Burana are from a 13th-century manuscript discovered in a Bavarian monastery and are thus from an era when the Forbidden City was built.
Yu, China's well-known conductor on the international scene, and SSO have signed a contract with DG in Berlin, where it is headquartered, to become the first Chinese conductor and orchestra to join the label.
Their first DG recording will be released in 2019 to mark the 140th anniversary of SSO, the oldest symphony orchestra in China.
Speaking about the deal, Yu says: "Even as we are announcing the news of the upcoming Beijing concert, the orchestra is working hard on recording its debut DG album."
One of the pieces in the recording will be Chinese composer Chen Qigang's La Joie de la souffrance for Violin and Orchestra, featuring Grammy-winning Russian violinist Maxim Vengerov.