Beipanjiang set Guinness record as highest bridge
Share - WeChat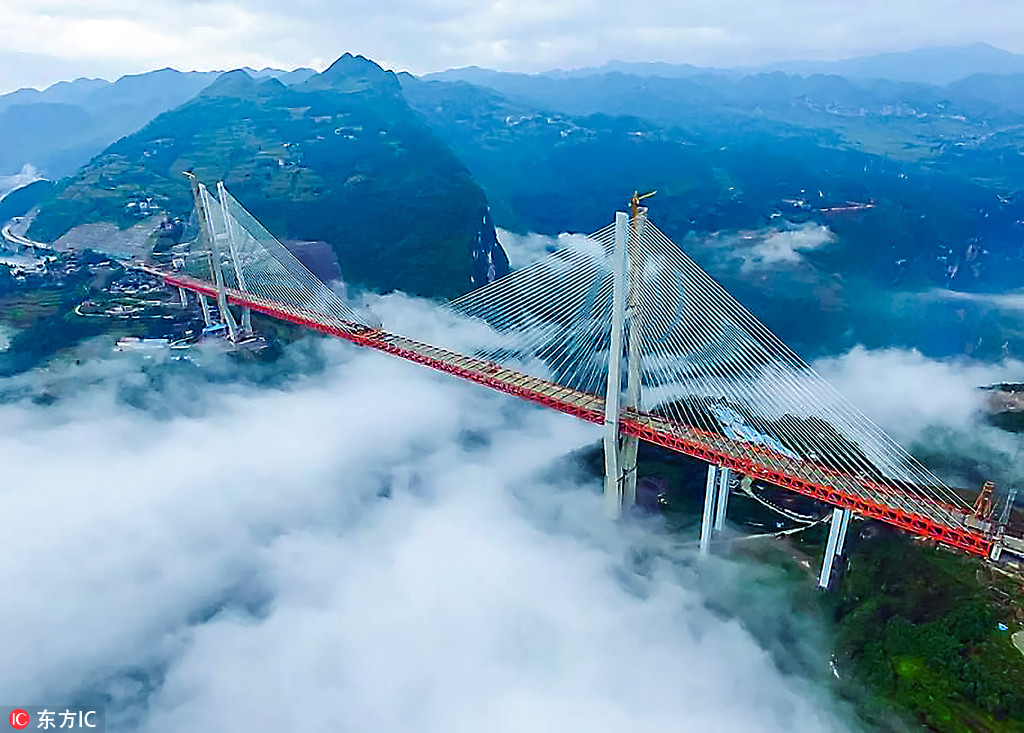 Beipanjiang Bridge, located on the border of Southwest China's Guizhou and Yunnan provinces, was recognized by the Guinness World Records as world's highest bridge on Tuesday.
The bridge soars 565.4 meters above the Beipanjiang Grand Valley, the height equivalent to a 200-floor skyscraper.
With a length of 1,341 meters, it was opened to traffic on Dec 29, 2016, as a section of an expressway linking Hangzhou city in East China's Zhejiang province and Ruili city in Guizhou's neighboring Yunnan province.
The cable-stayed suspension bridge has a largest span of 720 meters, the second-largest in the world.
Sometimes bathed in clouds and mist, the bridge offers breathtaking views due to its height, the turbulent river beneath and deep mountains around.
The complicated geological conditions made it difficult to build the bridge but gave birth to technological advancements during the construction, including four patents for invention and seven patents for utility model.
In May, the Beipanjiang Bridge won the Gustav Lindenthal Medal, dubbed "Nobel Prize in the bridge construction", at the 35th International Bridge Conference held in Maryland, US.
Situated in rolling mountains and gorges, Guizhou is home to many of the highest bridges in China.