CGN commits to UK nuclear power station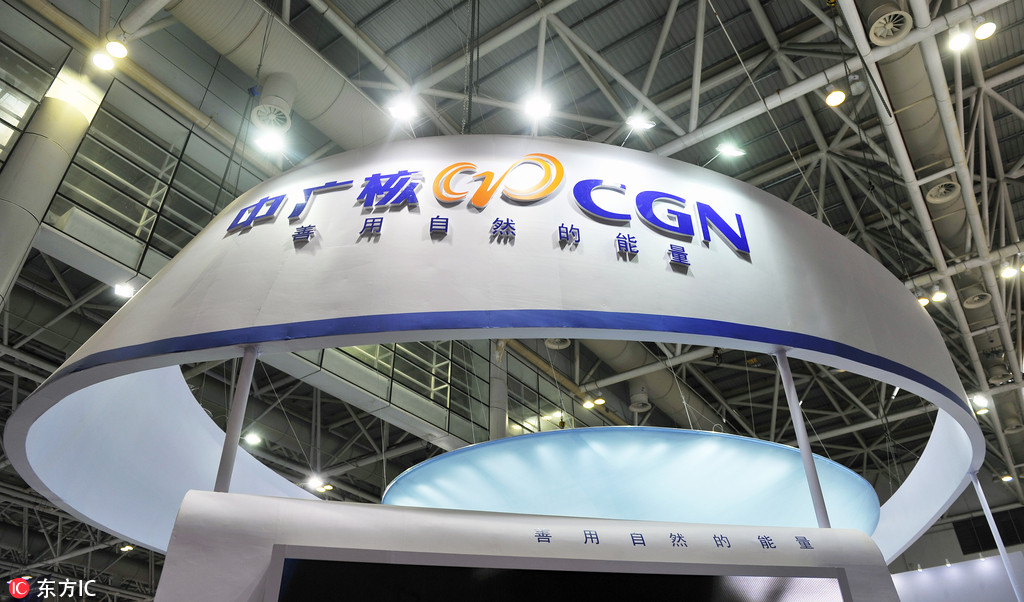 China General Nuclear said on Tuesday that it will remain the majority financial investor for Britain's Bradwell nuclear station, and that the station will be built using China's flagship third generation nuclear technology.
The announcement came after a story in the Financial Times on Tuesday which again pushed CGN's UK nuclear ambitions into the media spotlight.
The FT story said CGN may "bow to political sensitivities" to give up control of Bradwell, an Essex-based power station in which CGN has agreed to hold a 66.5 percent stake, with France's EDF holding the reminder. This arrangement was agreed in a 2016 contract signed between CGN, EDF and the UK government.
Bradwell, scheduled to begin generating electricity in either the late 2020s or early 2030s, is likely to become the first ever nuclear power station in a developed market to use China's flagship third generation nuclear technology, known as HPR1000.
It will be an important showcase for the technology, paving the way for it to be used in more countries globally.
The FT article, that did not specify whether Bradwell would still deploy the HPR1000 technology, focused on CGN's recognition that Chinese investment into the UK nuclear sector still faces the challenge of political sensitivity.
"We understand the political and local sensitivities," Zheng Dongshan, CEO of CGN's UK subsidiary, told the FT. "There is no reason to restrict us as a Chinese investor . . . but we know we must take time to show the public, the government, they can trust us."
CGN would be willing to consider "not being the majority operator" at Bradwell, Zheng told the FT.
Tim Yeo, Chairman of New Nuclear Watch Europe, a London-based lobbying group, said the timing of Zheng's statement suggests that closed-door talks between CGN and the British government may have taken place recently.
"The way CGN took the initiative to announce that it could consider reducing its operation involvement at Bradwell is smart. This move can make the British government and the British public feel more comfortable about CGN's presence in the UK, and that can actually accelerate progress at Bradwell," Yeo said.
Giving up operational control is not the same as giving up financial control. Under current arrangements, CGN is still planning to be the majority investor funding Bradwell's construction stage. Once construction finishes, Bradwell will enter its operational stage, so by then either EDF or other nuclear operators could possibly take on more work.
For years, Chinese investment into the UK's nuclear sector has encountered suspicion and resistance from a variety of sectors. There is concern that if a Chinese company were to operate important power infrastructure in the UK, then Britain's energy supply could come under threat if relations between the two countries soured.
Although a scenario like this is based on nothing more than groundless assumptions, it still reflects such opinion as demonstrated, for instance, through a letter written in The Guardian this July by Jeffrey Henderson, a professor of international development at the University of Bristol. He wrote: "The British government is setting us up for a situation where the Chinese will have a decisive role in one of our most strategically important industries. This borders on insanity and clearly has to be stopped."
Yeo said he, too, believes such concerns are unfounded, but stresses that it would take time for the British public to grow acceptance for Chinese nuclear investors. "Once Bradwell is up and running, the British people will realize CGN is a responsible investor and welcome it for future deals."
China's HRP1000 technology is currently being assessed by the UK's Office for Nuclear Regulation. The process, which started in January 2017, is on track, but requires about another three years to complete. Once approved, HPR1000 can be deployed at Bradwell.
Meanwhile, progress is marching forward at CGN's Fangchenggang Phase II power station in China's Guangxi Zhuang autonomous region, which deploys HPR1000 technology and is used by CGN to model technology at Bradwell. In May, Fangchenggang Phase II achieved a technical milestone, when its steel dome was successfully installed.
Zheng said the milestone is an endorsement of CGN's expertise and is "also great news for the Bradwell project, showing that CGN has a track record in safely and efficiently building and operating this type of reactor well before the project becomes operational in the UK."