Smart city program makes life easier for local residents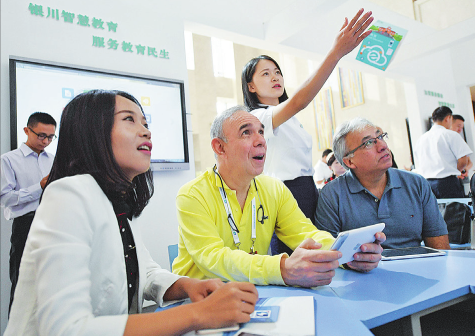 Ningxia Hui autonomous region's capital, Yinchuan, is aiming to become a smart city to create a better living environment for its residents.
The city received approval from the central government in 2013 to become one of China's smart construction pilot cities.
Local officials said that smart city construction can help to enhance city management efficiency, improve the living environment and solve problems that constrain urban development.
"We have to further accelerate smart city construction processes and make Yinchuan a leader (in smart city development) in China," said Jiang Zhigang, Party chief of Yinchuan.
Yinchuan has paid close attention to promoting smart development in medical care, education and city service sectors.
It has signed strategic cooperation agreements with more than 30 leading national online medical service providers such as Haodaifu and Dingxiangyuan since last year.
A total of 19 online medical companies have obtained approvals to provide services in Yinchuan.
Statistics from the Yinchuan bureau of big data management and services show that more than 20,000 doctors in the city have registered with online medical service providers and more than 220,000 patients in Yinchuan have used online medical services.
The development of a smart education system is also a key task of the local government.
To date, all schools in Yinchuan have access to the internet. Twenty-four schools are recognized as education informatization pilot demonstration sites. Those schools' practices are being promoted to support the development of other schools in Yinchuan.
All teachers in Yinchuan have participated in a national computer training program and are required to pass its test.
The local authority said that all education service providers, schools and communities will be connected to enable the sharing of education data and resources by 2020.
In the next few years, Yinchuan plans to use technologies such as cloud computing, big data, internet of things, mobile internet and artificial intelligence to offer premium education services to more residents and solve related problems in the education sector.
The Yinchuan government has also developed a smart service platform to deal with everyday administrative and city service matters.
The platform, launched in 2016, has been used to process more than 583,000 suggestions and complaints from residents, of which 94.8 percent have been resolved.
The city had 55 different hotline services to deal with matters related to services such as water supply and urban management before the platform was launched. Now, all those services have been integrated into the platform so residents can access all services under one roof.
The platform allows 58 government departments to share data. Regional data such as local climate, population and environment are available on the platform.
Some key government departments' and companies' contingency plans are kept on the platform so as to improve the city's ability in dealing with emergency matters.
The platform also serves an important role in reducing pressure on the city's police, fire and ambulance services by transferring nonemergency matters to the platform itself.
"We consider every sector in Yinchuan in smart city construction to create barrier-free access to information," said Wang Chuan, director-general of the Yinchuan municipal bureau of big data management and service.