Urban zone treads green path to protecting its natural environment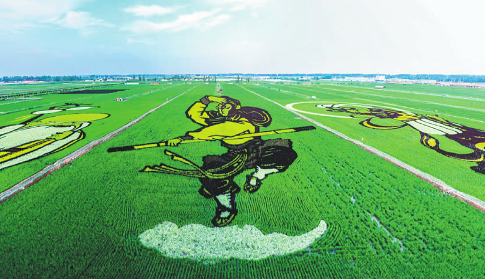 Yinchuan, capital of the Ningxia Hui autonomous region in northwestern China, is paying greater attention to environmental protection in response to the central government's call to maintain sustainable development.
Officials said the city had made significant efforts to curb desertification, increase reforestation and improve wetland protection over the past few years.
The 81,800-hectare Baijitan National Nature Reserve in Lingwu county in Yinchuan is on the edge of the Maowusu Desert, which covers an area of more than 40,000 square kilometers. The gradually expanding desert has been a critical problem constraining regional development since the 1950s.
The Baijitan Forest Farm, established in 1953, is aimed at stopping the Maowusu Desert from further expanding. Since then, three generations of people living on the farm have been involved in the battle against desertification.
Statistics from the Ningxia authorities show that some 42,000 hectares of forests have been cultivated over the past 60 years, controlling more than 60,000 hectares of sand. Currently, the forest coverage of the reserve has reached 40.6 percent.
A desertification control area stretching 48 km in length and 38 km in width has been developed and has effectively stopped Maowusu Desert's expansion, according to the local government. Some desert land has been reclaimed.
The forest farm has long been committed to curbing poverty while tackling desertification. Orchards and live stock breeding have been established so staff members can earn money.
Yinchuan has spared no effort in strengthening its wetland protection and restoration over the last few years. Statistics from the city authority show that a total of 3.45 billion yuan ($503.32 million) has been invested in wetland-related projects since 2009.