Flights cancelled, schools closed as Typhoon Mangkhut approaches
Share - WeChat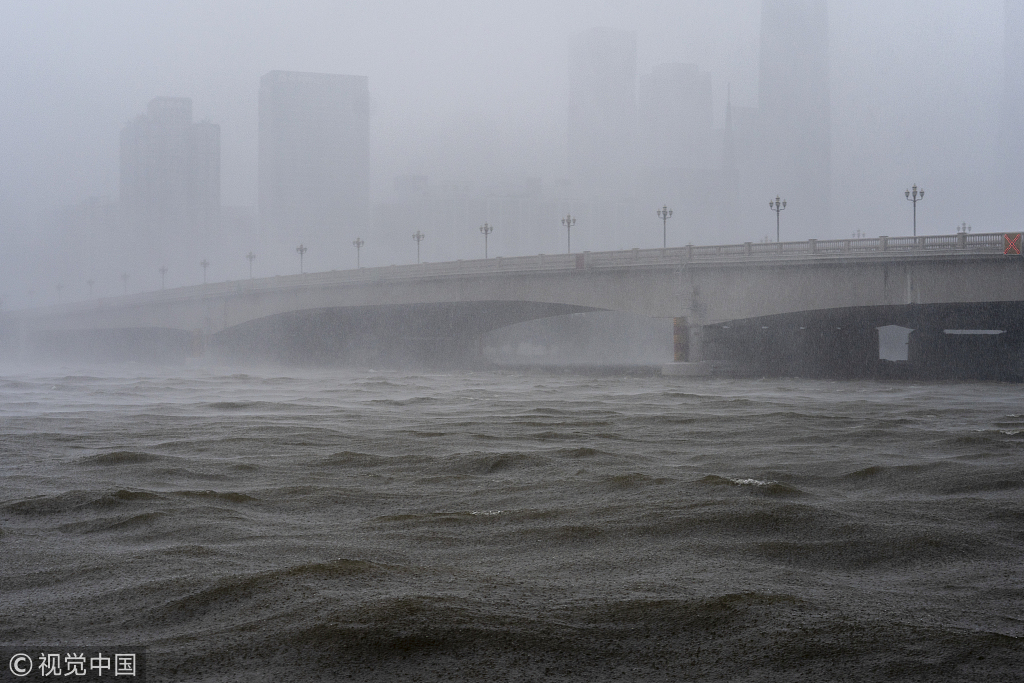 HAIKOU - More than 400 flights at two airports in China's southernmost island province of Hainan were cancelled Sunday morning, with all coastal resorts and schools closed, as Typhoon Mangkhut approached.
Typhoon Mangkhut landed at 5 pm on Sunday on the coast of Jiangmen City, South China's Guangdong Province, packing winds up to 162 km per hour, according to the provincial meteorological station.
South China regions including Guangdong, Hainan and Guangxi Zhuang autonomous region were affected by strong gales and heavy downpours Sunday morning.
The Hainan provincial tourist department has ordered all scenic areas, schools and outdoor businesses to close on Sunday and Monday morning. Guangdong has taken similar precautions.
By Saturday, all fishing boats in coastal cities of Guangdong were called into harbor. Ferry services in the Qiongzhou Strait linking Guangdong and Hainan were suspended from Saturday morning.
Flights via Shenzhen Airport were all cancelled on Sunday until 8 am Monday. All long-distance coach services through the city were suspended from 6 pm Saturday.
On Sunday, nearly all urban public transport services in coastal cities in Guangdong were stopped, and coastal highways were closed.
In Guangdong's provincial capital of Guangzhou, groceries in markets and supermarkets were nearly sold out on Sunday morning, as residents snapped up everything on the shelves to store food at home.
The municipal commerce department has taken emergency measures to ensure stable food prices, and added bulk purchases of grocery supplies to replenish the city's 256 large wholesale distributors.
In the port cities of Zhuhai and Zhanjiang in Guangdong, shops were closed on Sunday.
The Guangdong civil affairs department has opened 3,777 emergency shelters to help people needing refuge in severe weather, and relocated 100,000 people from disaster-prone areas.
The Guangdong disaster relief headquarters has sent supervisors and mobilized staff to check safety risks at construction sites, on dykes and at industrial projects.
Guangdong has sent military forces to coastal cities, and prepared 1,000 lifeboats, and disaster relief goods for emergency rescue.
Provincial meteorological departments have sent out real-time monitoring information of the typhoon's movements via media outlets and weather alerts to cell phone users.