Chinese Buddha statue in Sotheby's resembles lost relic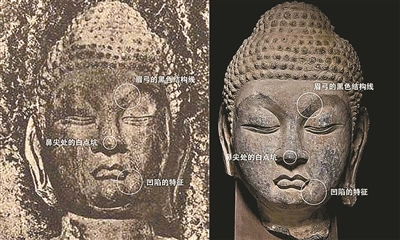 The head of an ancient Chinese Buddha statue listed in an auction catalogue of Sotheby's, a prominent auction house in the US, is suspected of being stolen from the Longmen Grottoes in Luoyang, Central China's Henan province, reported Beijing Youth Daily on Friday.
Some Chinese art amateurs believe the Buddha's head is a lost relic from the renowned collection of Buddhist cave art.
"I think the head of the Buddha statue is an authentic one. And I think it is a stone sculpture from the Henan area in the Tang dynasty, which is quite similar in style to those in the Longmen Grottoes, " Yang Xin, an amateur of ancient sculpture, wrote on his WeChat account.
Sotheby's said in a reply to Beijing Youth Daily that "only after the publication of our auction catalogue, our attention was drawn to the image of a sculpture very similar to the present work published by a Japanese photographer who documented the Longmen Caves of China in the 1920s and 30s."
Sotheby's said that after a discussion with the sculpture's owner, the Junkunc family, the Buddha head would not be included in the sale on Sept 12.