British school kids enjoy qigong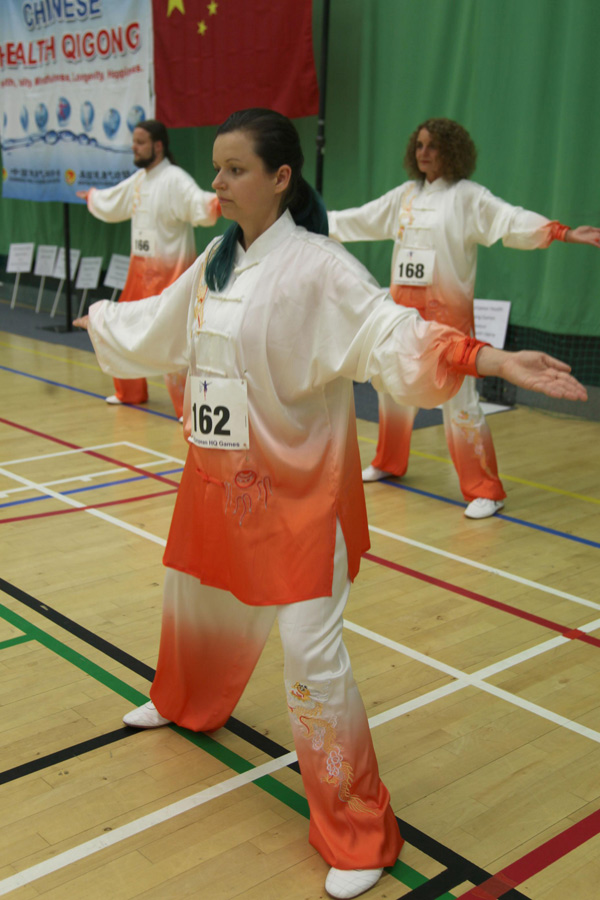 LONDON-Dressed in bright yellow uniforms, 14 children from England's Fibbersley Park Academy perform Baduanjin ("eight-section brocade"), one of the most common forms of Chinese qigong exercise, together with nearly 300 adults at the opening ceremony of the third European Health Qigong Games.
After one year of practice, these future qigong stars, aged 6 to 11, were invited to demonstrate qigong at the games, on Aug 28 at the University of Hertfordshire, Hatfield.
Rheeya, 11, says that she was lucky to be selected to join the qigong club at school and she now likes practicing it every day by herself at home.
"It's good fun and it's very slow. It's a great thing to do. I want to learn lots more and become better at it," she says.
The children's qigong instructor Nicola Day, a member of British Health Qigong Association, introduced qigong into the United Kingdom school curriculum a year ago when she started teaching it once a week at Fibbersley Park Academy.
"As a teacher I notice that the children in the UK are stressed by school work and life in general. Many children and adults now spend a considerable amount of time of the day gazing at electronic screens of phones and tablets and less time interacting with other people," says Day.
"The UK education system is also putting pressure on children to be successful in national exams. I know that through qigong the lack of social interaction, fitness, stamina and mental health can be redressed," she adds.
Day, a middle school music teacher, discovered tai chi and qigong at university in the 1980s, and immediately fell in love with them.
Then, after becoming aware of their health benefits, she sought a school that would give her the chance to show the impact of qigong on young students.
Li Hui, chair of the British Health Qigong Association, says that the association, which was established nine years ago and focuses on training qigong instructors in the UK, has seen an increase in the number of Europeans who want to learn about this ancient Chinese healing system.
A long-term advocate of the dissemination of traditional Chinese culture globally, Li has trained thousands of tai chi and qigong enthusiasts and instructors in Europe.
And her group has been working with a UK National Health Service hospital in Nottingham for the past two years to train therapists about how to use qigong to deal with chronic fatigue syndrome.
Oliver Darkow, vice-president of the Swiss Health Qigong Federation, who is a member of a team at the games, also believes in the healing effects of qigong.
"I think it's amazing. I started practicing qigong three years ago, and now I do it in Switzerland. It is very good because I feel more healthy. I really appreciate the fact that I can now concentrate and focus better," he says.
He adds that qigong has also made him become more interested in Chinese traditional medicine, and that his qigong team plans to visit China next year.
About 300 participants from 20 countries and regions, including France, Germany, Switzerland, Russia, Greece, Canada, Sri Lanka and China, gathered for the games, and a symposium on qigong hosted by the British Health Qigong Association.
Suzy Harvey, the High Sheriff of Hertfordshire, says she hopes the seven-day event will encourage people of all ages to embrace qigong for health, fitness and personal growth.
Xiang Xiaowei, an official with the Chinese embassy in London, calls qigong "a gem of Chinese culture".
"It is not only an ethereal embodiment of Chinese health culture, but also serves as an alternative solution to contemporary health issues," he adds.