Chinese storytelling master Shan Tianfang dies at 84
Share - WeChat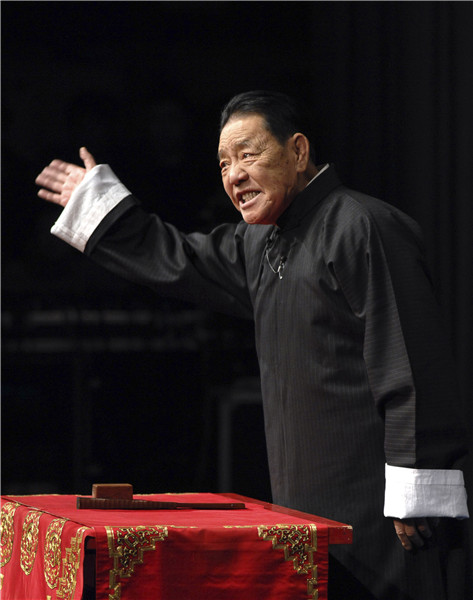 One of China's top pingshu masters, Shan Tianfang, died at the age of 84 in Beijing on Tuesday.
The traditional Chinese art form, pingshu, or storytelling, was born in the Song Dynasty (960-1279) and has been popular with audiences mostly in northern China.
With a simple backdrop-usually a pair of screen doors, a table, a folding fan and a block of wood (known as xingmu)-Shan won a large base of enthusiastic fans for his solid techniques and improvisation describing the scenes in the book in vivid and captivating ways, like movie clips.
Shan told stories with witty, humorous comments and expressive body language that appealed to audiences of all ages.
Most of the pingshu stories are adapted from ancient Chinese literature. One of Shan's most famous pingshu works is The Romance of Sui and Tang Dynasties, based on the historical novel of the same title by Chu Renhuo (1635-82), which tells stories of historical events leading to the fall of the Sui Dynasty (581-618) and the rise of Tang Dynasty (618-907).
Born as Shan Chuanzhong in Yingkou, Liaoning province, Shan was influenced by his family, most of whom were local folk artists, including his father Shan Yongkui, who played the sanxian-a three-stringed plucked instrument-and his uncle, Shan Yonghuai, who was a pingshu performer.
Shan Tianfang launched his career as a pingshu performer in 1953 at age 19. He made his stage debut when he was 24 and soon rose to fame by performing classic pingshu works, including Romance of the Three Kingdoms, based on a 14th-century historical novel of the same title by Luo Guanzhong.
Traditional pingshu artists usually perform in teahouses or small theaters. Thanks to radio and television, the old art form has reached a wide audience. Since the 1980s, Shan had recorded many pingshu works at radio and TV stations across the country.
In 2007, he announced his retirement after performing the 80-episode contemporary pingshu work Lao Dian Feng Yun, which chronicles the history of the Chinese company Hengyuanxiang, an old Shanghai wool brand founded by Shanghai merchant Shen Laizhou in 1927.
In 2012, Shan Tianfang won the Lifetime Achievement Award at the 7th Peony Awards for China Quyi-a general term for traditional folk art forms, including ballad singing, storytelling and crosstalk.