Zhejiang University Press opens editorial office in Moscow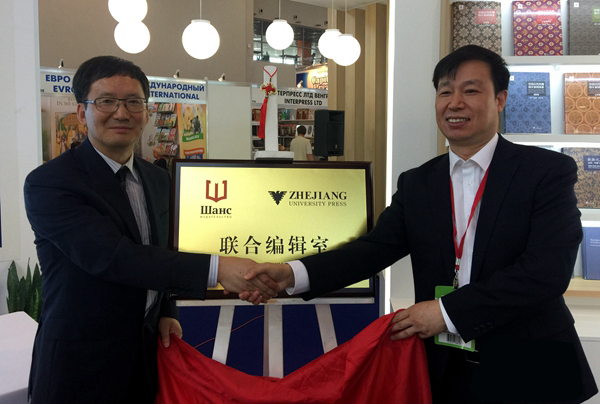 Zhejiang University Press set up an editorial office with Shans Book, a Russia-based press, in Moscow on Friday, to promote copyright trade and co-publishing between the two nations, and help the two peoples get to know each other better.
Filimonov Oleg Vasilevich, vice-president of the Russian Publishers Association said the cooperation is an innovation based on the effective copyright trade in recent years.
Anikeeva Svetlana Mikhailovna, president of Vostok Book, a Russian literature press, said the attraction between China and Russia is particularly strong today, and carrying out cultural exchanges in all aspects would lay a solid foundation not only for friendly relations between the two countries, but also for friendship between human beings.
Yuan Yachuan, editor-in-chief of Zhejiang University Press, said the setup of the Russian joint newsroom helps further integrate the advantageous resources of both sides, making the best use of the local market sensitivity of Shans Book in Russia and the content resource reserve of Zhejiang University Press.
Mu Ping, president of Shans Book, said they would plan publishing projects that really tell Chinese stories and meet the needs of overseas markets.
Shans Book and Zhejiang University Press have jointly published a series based on the Belt and Road Initiative in Russian, Kazakh, and Ukrainian.