Eastern Economic Forum opens new chapter in Sino-Russia ties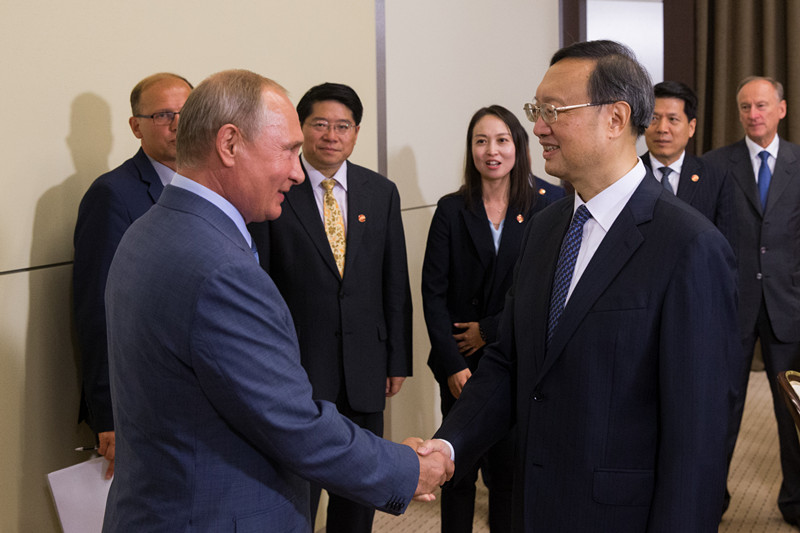 To say China and Russia are enjoying good relations would be an understatement. Whether it is trade, tourism, student exchange or media interaction, ties between both the countries have risen to a level unthinkable a few decades ago.
President Xi Jinping, who has met his Russian counterpart Vladimir Putin twice this year, will cement this relationship further when he meets Putin during the fourth Eastern Economic Forum, scheduled to be held in Vladivostok from Tuesday to Thursday.
In 2017, Chinese direct investment in Russia rose 72 percent to reach $2.22 billion, while bilateral trade value increased 20.8 percent to $84 billion. Moscow is now Beijing's ninth-largest trading partner, a jump from 11th place in 2017. Experts predict trade between the two nations will cross $100 billion by the end of 2018.
But it is not just trade and investment bringing these neighbors closer. During the recently held FIFA World Cup, more than 180,000 Chinese visited Russia, over 10 percent of total foreign tourists visiting the month-long tournament. Last year around 1.50 million Chinese visited Russia, and this number is projected to increase this year.
When it comes to education, Russia is one of the top source countries for students enrolling in Chinese universities. These students are seeking degrees across a wide spectrum of disciplines, ranging from fashion design to medicine and architecture. Russia, on the other hand, plans to introduce Mandarin as an elective in the national college entrance exam. This comes on the heels of an increase in Mandarin learners in Russia — from 17,000 in 2007 to 56,000 in 2017.
Meanwhile, the China-Russia Media Exchange Year (2016-17) announced by both leaders in 2015 saw a rise in exchanges and cooperation between big and small media companies in the two nations. More than 250 activities related to media took place during the year. Currently, media organizations of both countries are witnessing fruitful cooperation on various levels.
While ties between the two nations began improving decades ago, they gathered pace after both parties signed the strategic partnership of cooperation in 1996, which was later elevated to a comprehensive level in 2014. The Sino-Russian Good-Neighborly Treaty of Friendship inked in 2001 also gave a boost to peace. Relations took off after Xi, who considers Putin "an old friend" and "a good friend" of the Chinese people, took office. Last July Xi, who enjoys a close relationship with Putin, said the bilateral relationship was the best ever.
By attending the forum, Xi not only wants to inject new impetus to the ties, but also deepen regional cooperation and economic relations. Moscow hopes the forum will result in more investment by China and other countries in the resource-rich Far East. Beijing is already the largest trade partner and the biggest investor in the region.
At this year's forum, leaders of nine Chinese regions and their 13 Russian counterparts will take part. Highlights will be the state-level trade and cultural meetings Xi, who is scheduled to deliver a speech at the plenary session, plans to attend.
Moscow, which launched the annual forum in 2015 with the aim of attracting global capital in the Far East, is looking to build on these relations. The region is spread over 36 percent of Russia's territory, but has less than 5 percent of its population. This sparsely populated area is estimated to hold one-third of Russia's total natural gas resources, around half of Russia's gold reserves, more than 90 percent of its diamonds and 70 percent of Russian fish. However, mining, processing and transportation of its resources remain a challenge due to lack of investment.
It's here that China, Russia's biggest oil importer, comes in. But it's not only the oil sector where Beijing is investing. Chinese companies, primarily those based in North China, are putting capital in the Far East's agriculture sector, while private enterprises from China are investing in the tourism industry. This is especially true in South Siberia, which is closer to China and offers plenty of sunshine, natural beauty and off-the-beaten-path adventure.
To provide more momentum to these investments, the Eastern Economic Forum hopes to open new doors for Chinese companies seeking opportunities in Russia's Far East.
The author is a journalist with more than 18 years experience in media.
Most Viewed in 24 Hours
China stories