When academic knowledge meets farmers, crop yields increase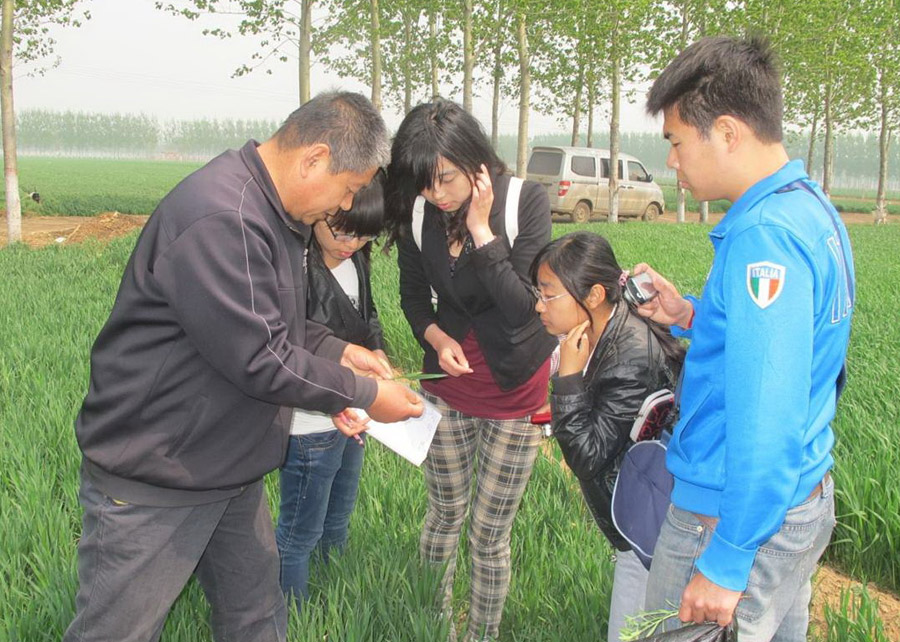 An agricultural university in China has worked out a way to increase farmers' crop yields by residing scientific teams in villages to provide research and advice.
Beijing-based China Agricultural University set up an experimental facility called the Science and Technology Backyard in 2009 in Baizhai, Quzhou county, Hebei province, about 400 kilometers southwest of Beijing.
At the place, professors and graduate students of the university live, conduct scientific research and provide face-to-face professional guidance for local farmers.
"The aim is to efficiently transform academic achievements into farm productivity, and at the same time to enhance students' ability to apply knowledge in a practical way," said Zhang Hongyan, associate professor at the university's College of Resources and Environmental Sciences.
Before 2009, most farmers in the county used seed varieties that were not well-suited to local conditions, and the plant density of wheat and corn - major corps in Quzhou - was not optimal, Zhang said.
The research team evaluated soil and weather conditions and carried out a range of research on crop management practices.
Based on the research, specific guidance was given to farmers, including how to efficiently use water and nitrogen fertilizer, how to choose suitable seeds, when it is best to sow and harvest and how to determine the proper seeding rate and plowing depth.
Whenever there's a problem during a crop's growth cycle, farmers come to the place and ask for help - which is given immediately.
Although in the beginning farmers didn't believe the guidance was useful because they thought of themselves as having more experience than college students, they became convinced by good results.
From 2009, the year the research facility was established, to 2015, the average yield of wheat in Quzhou from 5,670 kilograms per hectare to 7,270 kg. Corn yields increased from 6,435 kg per hectare to 9,105 kg.
After a decade's development, the researchers' work has expanded. Following the success of the first pilot facility in Quzhou, more and more were gradually established, not only by the China Agricultural University but also by other universities and agricultural companies, he said.
More than 120 Science and Technology Backyards currently operate in villages across China.
"Even researchers from other countries showed interest in the pattern of integrating academics with farmers' productivity and wanted to try it," Zhang said.
He added that agricultural technicians and government officials from partner countries in the Belt and Road Initiative have visited the Quzhou facility three times in the last two years.
While farmers produce higher yields, the integration also improves the competence of graduate students in their study and work.
Cao Guoxin, one of the students who arrived at the Quzhou facility in 2009, said the experience of living and working closely with farmers clarified his study and research objectives.
"We need to do research to meet the actual needs of farmers," he said.
Having stayed at the Quzhou facility for almost 10 years, Zhang said students with experience at these facilities are more likely to find jobs after graduation.
"They know better how to practically apply theoretical knowledge and have better communication skills than students who study full-time at college," Zhang said.
Graduate students usually stay two years of a three-year course for their professional degree at village backyards and spend another year on campus.
"We will try to involve more students in the program, including undergraduate and doctoral students in the future," Zhang said.