Environmental changes on plateau bring both opportunities and risks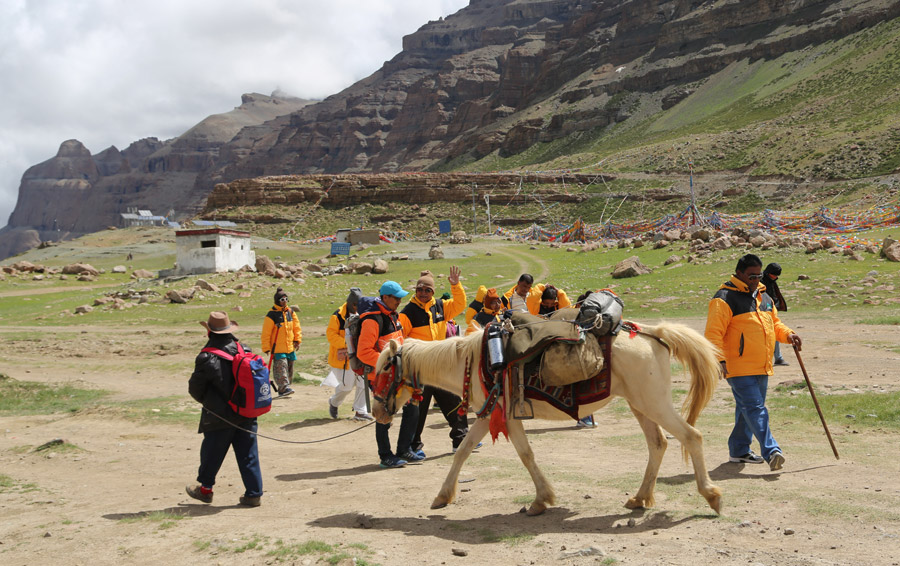 Ecological changes on the Qinghai-Tibet Plateau come with both opportunities and risks, according to an information session last week with scientists about the plateau and Tibet's path of development.
A team led by the Chinese Academy of Sciences has been analyzing the impact of environmental changes on society and providing suggestions for the sustainable development of the region.
The Qinghai-Tibet Plateau is known as the "water tower" of Asia - the source of many of the continent's rivers - and is a crucial ecological zone, as it provides a strategic resource for China.
According to the team's latest report, potential threats to the plateau include water imbalances, glacial avalanches and frequent catastrophes.
Over the last 50 years, glaciers on the Qinghai-Tibet Plateau and nearby regions has shrunk by 15 percent, permafrost has decreased by 16 percent and the number of lakes larger than 1 square kilometer has increased from 1,081 to the current 1,236.
One of the incidents caused by the imbalance was the glacial avalanche in Tibet's Ngari prefecture in 2016, which resulted in major casualties and property loss.
"The Qinghai-Tibet Plateau is gradually turning green, and at the same time there are worries and risks," said Yao Tandong, head of the academy's Qinghai-Tibet Plateau Institute.
The warming and humidification of the plateau is a positive change for the fragile environment, though it is a double-edged sword, Yao said.
The scientific reports increasingly show risks as the changing ecology affects crop production and brings droughts and floods.
The team also completed a sustainable development layout for the proposed Siling Co National Reserve and plans for an upgrade of Sanjiangyuan National Park.
The expansion of Siling Co has flooded more than 220 square kilometers of pasture land, and more than 300 households have been forced to relocate. Lake water has nearly reached the road, Yao said.
"It is very clear that the temperature has been rising on the plateau," said Walter Immerzeel, a professor at Utrecht University in the Netherlands. The high altitude is a factor, he said.
Immerzeel, who is collaborating closely with the scientific team, said the warming "has provided opportunities for agriculture, so crops can grow longer, but it also causes more extreme floods, so flooding is one of the biggest risks".
He said more funding was necessary to improve the research.
"I think we have learned a lot in the last 20 years," he said. "But there are still many uncertainties."