Palace Museum unveils calendar for 2019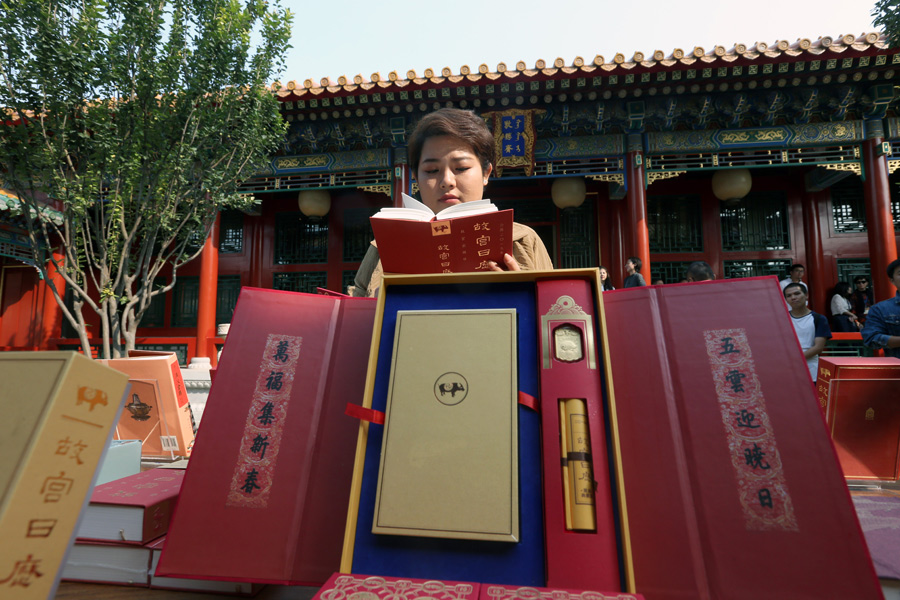 "For many, the calendar is an introduction to the world of fine art," says Chen.
"It showcases the culture and history of China," she says. "And it also promotes the outstanding techniques and wisdom of ancient craftsmen."
The Palace Museum used released calendars in the 1930s, but this tradition was halted when war broke out in 1937.
The credit for reviving the calendar tradition goes to Zheng Xinmiao, a former director of the Palace Museum.
Speaking about how he took up the idea, he recalls a visit to a museum in Guangzhou, the capital of Guangdong province, more than 10 years ago.
"There the museum staff told me that they had copies of our calendars from the 1930s," says Zheng.
"I was surprised to learn that. And they asked whether we had copies in our collection."
Zheng then got staff to check the files and found some of the calendars. So, he decided to revive the calendar tradition in 2010 as a way to promote the museum.
The 2010's calendar followed the format of the one from 1937, but was updated to keep up with modern developments.
Since 2011, the Chinese zodiac has been used as the key theme in each year's calendar. And color printing was introduced in 2012.
As for the dates in the calendar, they are written using Chinese calligraphy taken from rubbings from stone inscriptions, according to Chen.
One benefit of producing the calendar is that it is helping the museum categorize its treasures.
The January part of 2019 calendar focuses on artifacts related to pigs.
When work began on the calendar the authorities wondered if they had enough artifacts bearing the motif as it is not as common as the dragon or tiger, common totems of power in an imperial palace.
Nevertheless, they found more than 100 artifacts.
Shan Jixiang, the director of the Palace Museum, says that about 680,000 copies of the Palace Museum Calendar 2018 were sold last year.
And more than 700,000 copies of the 2019's edition have been printed so far. Each copy sells for 76 yuan ($11).
Other versions of the calendar that have been released this year include an English-Chinese one and another about royal food.