Rural teachers need more than a light show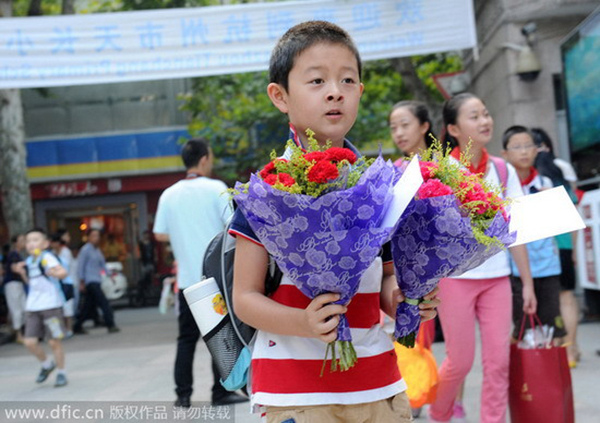 Monday was the 34th annual Teachers' Day in China. According to the Ministry of Education's recent deployment, all provincial capital cities and municipalities directly under the administration of the central government projected the characters "Hello, teachers" onto the facets of local landmark buildings from 8 pm to 9 pm on Monday to observe the day. Beijing News comments:
This is the first time since the top legislature made Sept 10 the annual Teachers' Day in 1985 that the Ministry of Education has called for the whole of society to mark the day in such high-profile manner.
But the light show should not dazzle people's eyes so that they fail to see some practical difficulties confronting teachers, particularly those working in the rural regions. For instance, the low income of rural teachers has been the main reason there is a shortage of rural teachers, let alone good teachers, in the countryside, where nearly half of the population live.
The poor education quality in the countryside reflects the fact that it is the children who live in cities who enjoy the best education resources. As a result, it is much more difficult for rural kids to secure a seat in key universities.
Because of this there is a growing tendency for rural families to end their children's education immediately after finishing the nine-year compulsory education in junior middle school, and most rural youngsters start working as migrant workers at 16, the minimum legal working age.
According to the Teachers' Law that came into effect in January 1994, the average salary of teachers should not be lower than that of local civil servants. Sadly, the clause has not made a difference to end the brain drain from rural schools to urban schools, as the experienced teachers from rural schools can easily find a better-paid jobs in schools in cities.
It is also not rare to see teachers in the countryside openly protesting against local governments, demanding they implement the law and raise their income level.
Teachers' Day should focus the Ministry of Education's attention on resolving these issues, which are more meaningful and urgent than a light show.
Most Viewed in 24 Hours
China Views