Long queues as XRL tickets go on sale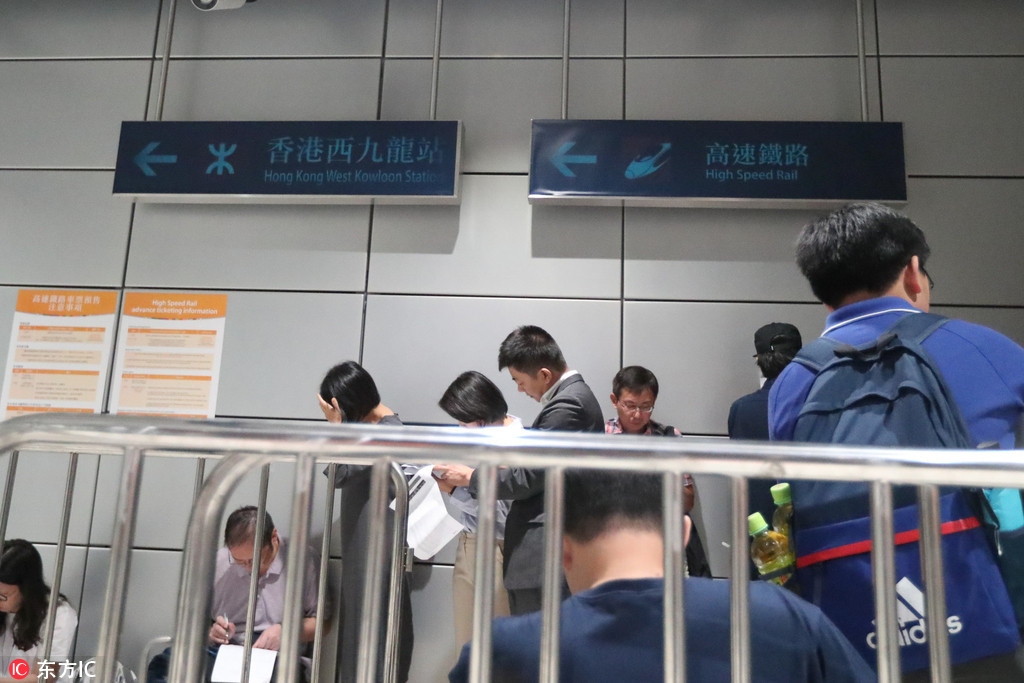 People queued for hours Monday morning at West Kowloon Station to be among the first to board Hong Kong's bullet train service to the mainland starting Sept 23.
The Mass Transit Railway Corporation, which operates the Hong Kong section of the Guangdong-Shenzhen-Hong Kong Express Rail Link, opened 28 counters at 8 am to handle the crowd of eager travelers. The advance ticket sale on Monday covered the period between Sept 23 and Oct 2.
The MTR Corporation announced that by 11:46 am, tickets were sold out for the very first high-speed bullet train to depart from Hong Kong's West Kowloon Station to Shenzhen North Station. Train G5736, a 19-minute ride, will depart at 7 am on Sept 23.
Leung Shing, a retiree, waited overnight and bought three tickets to the G5736 train. Having waited overnight for limited edition sales before, Leung said he could cope with the long wait for the high-speed bullet train tickets. He said he had never taken a trip on the high-speed rail, and would like to try out the new cross-boundary transportation service.
Counter service staff inside West Kowloon Station, on their first day with the new ticketing system, had to deal with sporadic system failures. Some weary customers had to wait nearly an hour just to buy four tickets.
Tickets can be paid for with cash, the Octopus card — a contactless stored value electronic card in wide use for public transport in Hong Kong — credit card or Union Pay. Mobile payments, including WeChat Pay, AliPay, Google Pay, Apple Pay and Samsung Pay, are also accepted.
Tickets were also put on sale at 39 ticket vending machines near the service counters, but by 9:30 am, an hour and a half after tickets went on sale, few people had used the machines.
Adi Lau Tin-shing, operations director at MTR Corporation, told reporters around noon on Monday the system had processed purchases from more than 800 people and issued about 1,200 tickets.
Lau admitted it was a lengthy process for many customers on Monday, as counter staff needed time to get familiar with a new ticketing system. He said an added challenge was that the high-speed rail ticket sales system on the Hong Kong side needed to coordinate with the mainland side's system, so passengers from both Hong Kong and the mainland could buy tickets for the same trains going in both directions.
Lau apologized for the inconvenience, and promised the MTR Corporation will review the process and improve services.
Brian Fung Cheuk-kin, a Hong Kong resident, waited overnight as he was eager to experience the new high-speed train service. His efforts paid off.
He bought a ticket to be on board the first bullet train from Hong Kong's West Kowloon Station to Guangzhou South Station – the G80 train – which will depart at 8:30 am on Sept 23 and take 51 minutes. He also bought a return ticket to make a round trip on the same day.
Fung said he found the XRL a convenient option for medium-to-long-distance trips.
For short-distance trips from Hong Kong to destinations within Guangdong province, such as Guangzhou or Shenzhen, Fung said he will still choose the same transport options he used before, because the price was lower. "It will be quite time-consuming, too, to collect tickets 45 minutes ahead of departure for high-speed bullet trains," Fung said.
He Yanting, an elderly resident of Shanwei in Guangdong province, had queued up as well. While in Hong Kong visiting relatives, He bought high-speed train tickets for Sept 23 to go home with his family to celebrate Mid-Autumn Festival, which falls on Sept 24 this year.
He is a frequent passenger on the high-speed railway in the mainland. Speaking from experience about purchasing tickets on the mainland, he found the service in Hong Kong slow. He was also surprised to find most people choosing counter service instead of ticket machines at the West Kowloon Station.
There will be direct trains from Hong Kong to 44 stations on the mainland once the Hong Kong segment of the Guangzhou-Shenzhen-Hong Kong Express Rail Link becomes operational on Sept 23. Transfer tickets are also available for those who wish to travel beyond.
Passengers may buy up to eight tickets in advance, and at least one of those tickets must be used by the purchaser. Tickets may be booked 30 days in advance on the service's hotline 2120 0888, and on two online links: China Railway Corp's official website 12306.cn, and mtr.com.hk/highspeed.
The 26-kilometer Hong Kong section of the Guangzhou-Shenzhen-Hong Kong Express Railway Link runs from Hong Kong's West Kowloon Station to the Shenzhen-Hong Kong boundary, connecting Hong Kong to the mainland's high-speed rail network at Shenzhen's Futian station.
The mainland section of the express rail link from Shenzhen to Guangzhou has been in operation since the end of 2015.
Yang Zekun in Hong Kong contributed to the story