Tibet region helping to build new Nepal consulate in Lhasa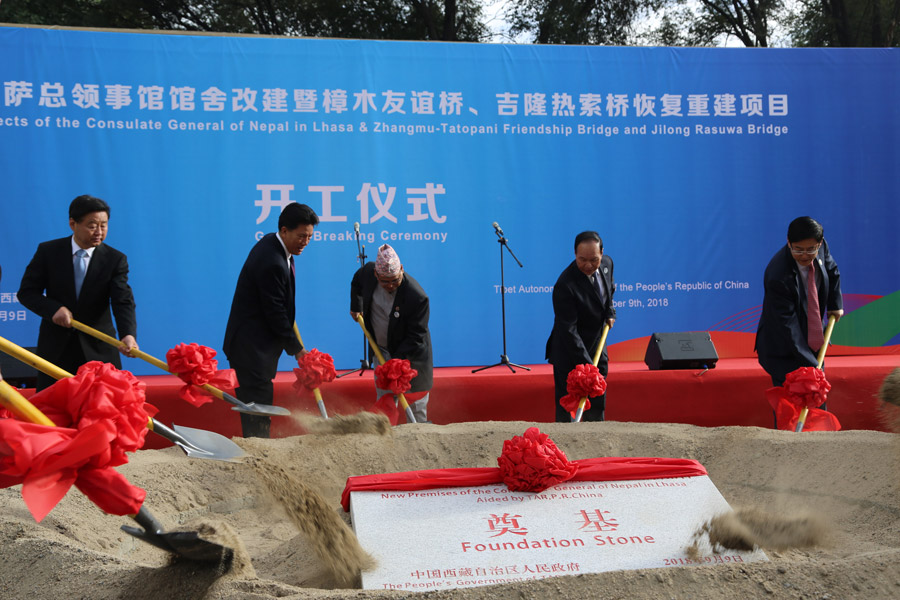 The reconstruction of Nepal's consulate general in Lhasa, Tibet autonomous region, officially began with a ceremony on Sunday.
Assistance will be provided by regional authorities.
Similarities in culture, along with their location in the Himalayan mountain range, have cemented a close friendship between the residents of Tibet and Nepal over thousands of years.
Built four decades ago in Lhasa, the Nepal consulate has played a pivotal role in trade, connectivity and exchanges. It is the only consulate in Tibet.
Chen Sheng, an official from the Tibet Foreign Affairs Office, said the current building is too old for satisfactory use and should be demolished.
During the demolition and reconstruction work, which is expected to be completed within two years, the consular staff will work from the Tibet Hotel in Lhasa.
Losang Gyaltsan, director of the Standing Committee of the Tibet Regional People's Congress, said the new building would greatly improve working conditions for Nepalese staff.
At the same time, renovation work has begun of two bridges at the border crossing that were damaged during the 8.1 magnitude Nepal earthquake in 2015.
The Chinese government will invest about 30 million yuan ($4.3 million) on the reconstruction of the consulate and renovation of the Zhangmu-Tatopani Friendship Bridge and the Gyirong Rasuwa Bridge, according to the architectural survey and design institute in Tibet.
"We have extended the overall layout of the consulate, and tried to combine Tibetan and Nepalese architecture styles as a whole," said Wang Shidong, head of the institute.
Wang added that the idea of combining two cultural styles would help the architecture fit with the local architecture. Though the overall appearance will be Nepalese, the building will feature many Tibetan elements, such as carvings and colors.
Gobinda Bahadur Karki, Nepal's consul general in Lhasa, said the consulate has enjoyed very friendly relations with Tibet, and called the project a generous act of goodwill by the region.
"I hope the work will take a maximum of two years. I hope it will be complete within a year, so after that, we will have better offices, better meeting places and better residential housing," he said, adding that many people in Nepal know about the big event and that Nepal and Tibet share an excellent relationship and healthy cooperation.
Krishna Bahadur Mahara, Nepal's minister for foreign affairs, said the renovation of the two bridges would enhance connectivity between the two countries and help promote the culture and tourism of the border areas of the two sides.
"The reconstruction of this office building will promote and consolidate the age-old historical relations between Tibet and Nepal," he said.