Evolving consumer habits signify a different reality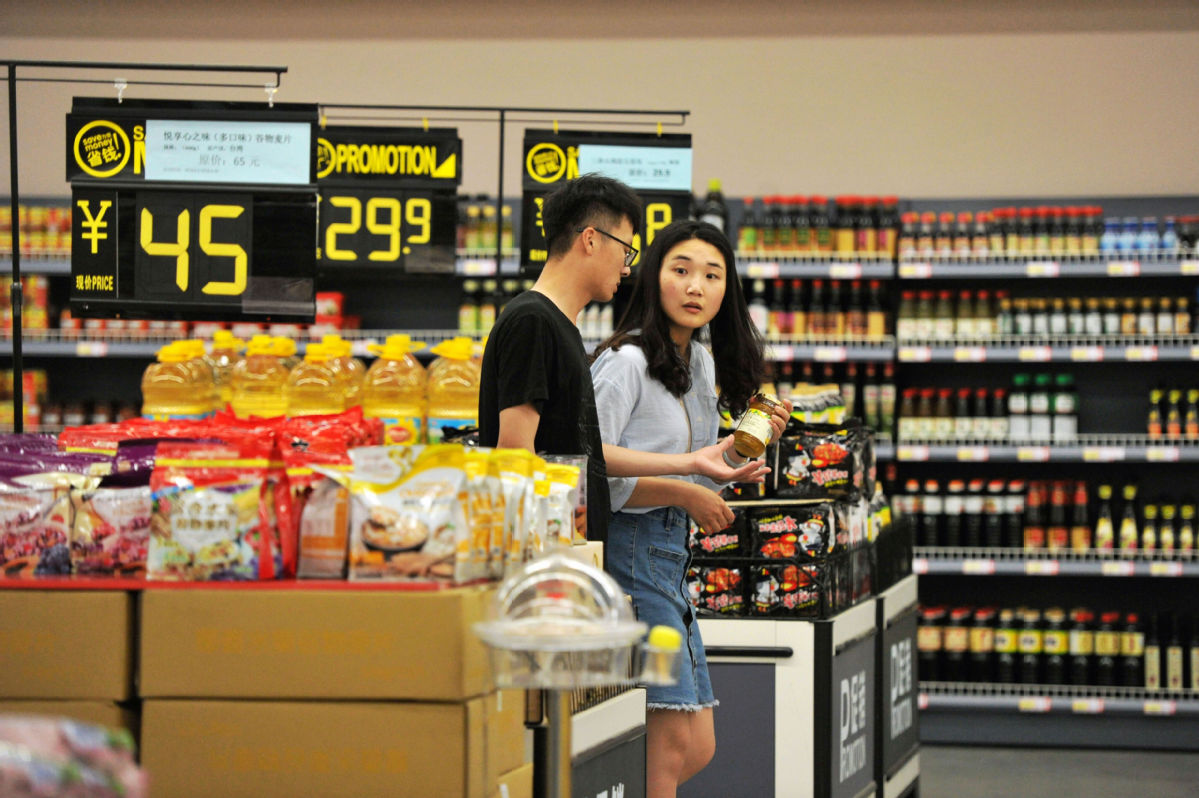 Retail sales of consumer goods have grown at a slower pace this year. From double-digit growth in previous years, retails sales have fallen single-digit growth this year, except for March, sparking concerns that China is experiencing consumption downgrading.
Some people regard the fast rise in the sales of pickled vegetables and pickled mustard this year as evidence of weak consumption. But facts suggest otherwise.
China's consumer goods retail sales are more than 3 trillion yuan ($438.8 billion) a month. Given this huge base, it is impossible to maintain doubt-digit growth over a long period. Besides, the more than 3 trillion yuan does not include service consumption, which has been growing at a fast pace this year and is taking a larger share of the overall social consumption volume.
Thanks to economic and social development, the consumption structure will improve, making consumption upgrading an irreversible trend as long as the economy maintains its current growth momentum.
After meeting their basic needs, people will diversify their spending on tourism, healthcare, education and entertainment, and other areas.
In 1978, when China launched reform and opening-up, Chinese people used to spend nearly 64 percent of their income on food. In 2017, the figure dropped to 29.3 percent. True, in the United States, people spend only 8 percent of their income on food. But even though the Chinese economy is second only to that of the US, there is a huge gap in the consumption structure between the two countries, which in turn indicates there is great potential for consumption upgrading in China.
After 40 years of fast economic growth, Chinese people's consumption has become more personalized and diversified. The need for government therefore is to take more effective measures to stimulate consumption by improving the quality and design of consumer goods and services.
But it is neither professional nor correct to conclude that China is experiencing consumption downgrading based on the popularity of a few food items such as pickled vegetables and pickled mustard.
Moreover, the popularity of inexpensive commodities in the countryside does not necessarily mean the weakening of rural residents' purchasing power. Instead, the faster growth of rural residents' disposable income compared with their urban counterparts has prompted almost all e-commerce companies to agree that the countryside has huge potential for consumption upgrading. Rural areas, where almost half of China's population lives, represent opportunities, not consumption or any other economic problems.
And the fact that Chinese tourists spent 2.3 trillion yuan abroad last year should prompt governments at various levels to take concrete steps to curb the consumption drain, by building a promising consumption environment and improving people's consumption experience.
The author is a reporter with the Economic Daily, where the article was first published.
Most Viewed in 24 Hours
China stories