Consumption is changing, not downgrading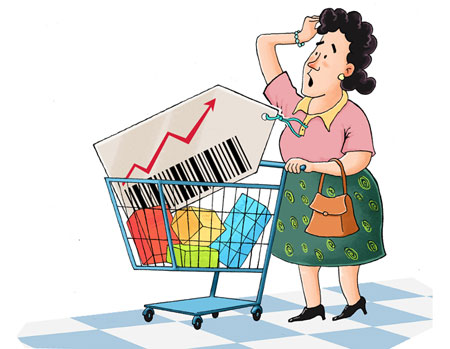 Consumption downgrading has become a hot topic of discussion among Chinese netizens, but whether Chinese people are reducing their consumption or changing the nature of their consumption is not only hard to ascertain but also hard to prove.
Different sets of data lead to different conclusions. The most direct data seem to suggest consumption is shrinking. According to the National Bureau of Statistics, the growth of retail sales of consumer goods nationwide in July was 8.8 percent year-on-year while the actual growth was only 6.5 percent year-on-year, which are low compared with previous years.
But macroeconomic researchers argue that total retail sales of consumer goods are calculated based on the sales of only physical commodities and do not take into account other types of consumption such as service consumption, and thus do not reflect the whole picture of total consumption.
In the first half of this year, macroeconomic data on all Chinese residents per capita consumption expenditure based on their spending on both physical commodities and services showed a nominal increase of 8.8 percent and actual increase of 6.7 percent year-on-year, which were 1.2 percentage and 0.6 percentage points higher than the figures in the first half of 2017.
Many see the rapid development of Pinduoduo, a discount app that mainly allows consumers to access low-priced products, as an example of consumption downgrading on the assumption that low-price products have become increasingly popular.
But some people argue that Pinduoduo is targeted at rural residents who do not have enough disposable income to splurge on expensive consumer products. Therefore, the app's popularity shows e-commerce is fast spreading to rural areas and consumption is increasing.
The reason why many netizens feel China is experiencing consumption downgrading is a more interesting and meaningful issue, which cannot be explained by simply defining and calculating consumption.
People's consumption decision is based on the judgment of their existing and future economic conditions. Faltering global economic growth and China's lower but sustainable GDP growth have affected people from all walks of life.
In the first half of this year, the actual increase in Chinese residents' per capita disposable income was only 6.6 percent, lower than the 6.8 percent GDP growth. And when people realize their disposable income is growing slower than the GDP growth rate, they tend to spend relatively less on consumer goods.
Another probable reason for a drop in the growth rate of retail sales of consumer goods could be the high housing prices and mortgage rates, which have had a squeezing effect on people's daily expenditure. Li Qilin, managing director of Lianxun Securities, said in a recent article that real estate accounts for two-thirds of Chinese families' wealth. The expenditure on housing, which could be several millions of yuan, forces people to remarkably reduce their spending on other items.
Last year, the leverage ratio of Chinese residents reached 49 percent, which exceeded the national savings rate of 46 percent for the first time. For many people who earn respectable salaries, the high mortgage rates they pay every month leave them with little disposable income to spend on quality consumption.
The significance of domestic consumption is not only crucial for people's livelihood and welfare, but also an important driving force for China's economic and social development, especially at a time when China is undergoing structural reform, economic upgrading and transformation, and facing the threat of a trade war.
So to release the people's potential consumption capacity, the authorities should resolutely curb housing prices and make efforts to balance the negative effects of the high leverage ratio on residents.
In addition, more favorable policies, such as deducting housing rent and housing mortgage from individuals' income before calculating personal income tax, will help increase people's consumption and facilitate China's sustainable development.
The author is a writer with China Daily.
Wangyiqing@chinadaily.com.cn
Most Viewed in 24 Hours
China stories