Xi pledges working with Kim to enhance bilateral relations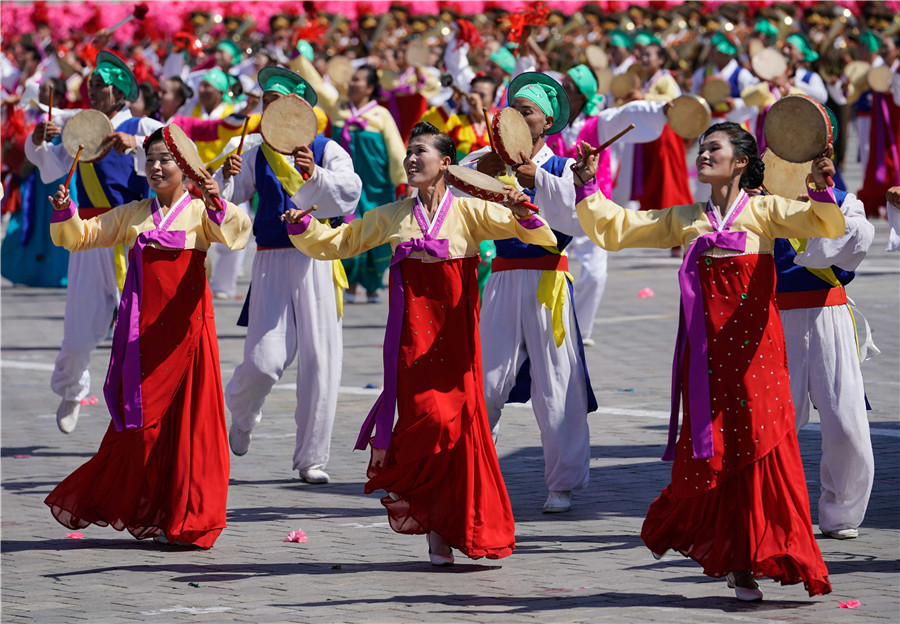 Pyongyang, Washington urged to implement summit consensus
President Xi Jinping sent a congratulatory message to Kim Jong-un, top leader of the Democratic People's Republic of Korea on Sunday, as the country celebrated the 70th anniversary of its founding with a huge military parade.
On behalf of the Communist Party of China, the Chinese government and people, as well as in his own name, Xi, also general secretary of the CPC Central Committee, expressed warm congratulations and sincere wishes to Kim, the Workers' Party of Korea and the DPRK government and people.
Xi said that people of the DPRK have made remarkable achievements over the past 70 years in terms of socialist revolution and construction.
In recent years, the Workers' Party of Korea and the DPRK people, led by Kim, have taken a series of positive measures in economic and social development, and achieved important outcomes, bringing the socialist cause in the country into a new historical period, he said, adding that he is pleased with the development.
The traditional China-DPRK friendship, forged and cultivated by older generations of leaders, is a precious treasure shared by both sides, Xi said, and it is the unswerving policy of the CPC and the Chinese government to maintain, consolidate and develop bilateral ties.
Xi said his three meetings with Kim this year further clarified the direction of developing China-DPRK ties, and he is willing to join hands with Kim to promote sound and stable development of ties over the long run, thus benefiting both countries and their people, as well as regional peace and stability.
Xi also wished the DPRK people greater success in national development and construction under the leadership of the Workers' Party of Korea led by Kim.