Italy to strengthen Sino-Italian economic dialogue and cooperation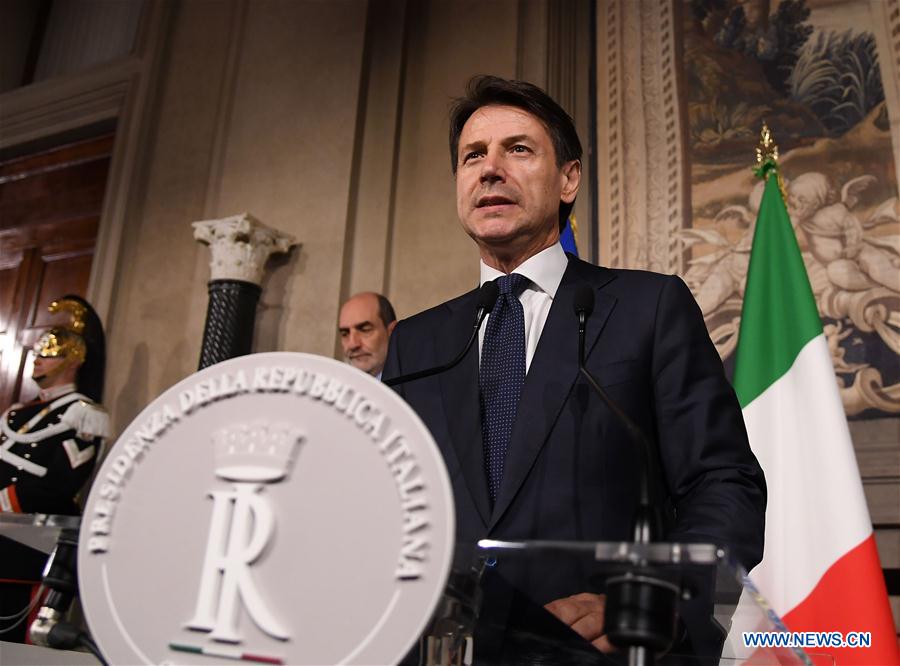 The new Italian government, formed this June, with Prime Minister Giuseppe Conte as the head of the coalition, has been working in the last months to address the country's top priority, which is economic growth. In fact, as part of the coalition agenda, the government aims to cut taxes and carry out a system of universal basic income to bring greater social justice through economic reforms. According to the Italian Minister of Economy and Finance Giovanni Tria, these measures are necessary to reform the country's current socio-economic system and to promote economic growth. However, what will this government's approach toward Sino-Italian economic cooperation be and why is China so important for Italy?
Recently the government launched the initiative Task Force China, a work mechanism of cooperation and dialogue between government, businesses and civil society organizations with the mandate of developing a new national strategy aimed at strengthening Italy's economic and commercial ties with China. The initiative is a very comprehensive one because it gathers different ministries, namely Economy and Finance, Interior, Education, Culture, Transport and Infrastructure, as well as the Ministry of Agriculture and Tourism, to discuss how to build a new national strategy vis-à-vis China. One of the main goals of this Task Force is that of strengthening Sino-Italian ties in the fields of trade, finance, investment, and research and development, as well as cooperation in third countries. The Task Force also aims to ensure that Italy has a leadership position in Europe when it comes to China's Belt and Road initiative.
It is with no doubt that Italy looks forward to closely interact with China and grasp the opportunities brought by this great developing economic power. According to Italian Undersecretary of Economy and Finance Michele Geraci, who has been living for more than 10 years in China while teaching at Nottingham University Business School China, Task Force China is an innovative forum for analysis and policy action, implemented in a harmonious spirit of consultations with all stakeholders. Besides providing shared and well-informed responses to Italy's dialogue with China, he goes on to say that such a forum allows Italy to seize the economic opportunities with China through a systematic national approach.
More specifically Task Force China will have the role of working a variety of themes, namely:
1) Incentivize Chinese investments in Italy and especially in greenfield sectors
2) Promote Chinese investments in government bonds and private companies to guarantee greater diversification and stability in the sources of public debt financing
3) Promote Italian exports and 'Made in Italy' to China as well as attracting more Chinese tourists to Italy
4) Assist Italian companies in the food and agricultural sector
5) Work with China in the green economy and learn Chinese know-how
6) Help Italian companies to link the Chinese investment programs financed by the Belt and Road Initiative, both in China and along the entire route of the new Silk Road
7) Enhance the mechanisms of scientific collaboration between research institutes, universities and businesses, through exchanges and cultural dialogue.
The new Italian government also highly praises China's efforts in investing in Africa in as much as it has brought positive impacts on poverty reduction, which, according to the Italian government, would in the long run gradually contribute in reducing migratory flows to Europe through the Mediterranean Sea. Italy sees Chinese cooperation with the African continent as a historic opportunity for international cooperation and for the socio-economic stabilization of the continent. This is crucial not only for a sustainable solution to the issue of immigration, but also for fostering mutual economic opportunities benefiting the peoples of Africa, China and Europe.
Minister Tria, in his recent official visit to China, reiterated the need for further fostering mutual benefits from an increase in economic, financial and commercial relations, but also to boost cooperation in multilateral and bilateral initiatives. As interviewed by Guangming Daily, Minister Tria said that the Belt and Road is a great transformation initiative for the whole world aimed at connecting economies and people. Minister Tria's trip to China marks a new phase for Sino-Italian economic cooperation, especially within the framework of the Belt and Road Initiative.
Furthermore, the two countries have a strong desire to maintain a spirit of collaboration as two major economies that firmly support the principles of a free market, multilateralism and sustainable development.
According to Federigo Argentieri, professor of political science and an expert in Italian and European politics, who also is director of the Guarini Institute for Public Affairs at John Cabot University, an American university based in Rome, Italy needs to cooperate with China for three reasons. First, Italy needs China as a partner from within a solid position in the EU as it has traditionally been a supporter of EU values, as a founding member. Then China could be a strong source to foresee the extent of major global changes, regarding their relations with other superpowers, such as the US and Russia. Finally, Italy also welcomes foreign investment and could fruitfully interact with China in various domains, from technological innovation to people-to-people exchanges.
The Italian government, under the leadership of Prime Minister Conte, has a strong will to play an increasing role in Sino-European economic relations. For this reason, a stable government with long-term economic vision is crucial for gaining credibility in Europe and in China. In a previous article, I mentioned that China and Italy are cultural superpowers that never cease to surprise us with their vast UNESCO heritage sites and their intriguing past of cultural interaction, I also believe that whichever government will be in power in Italy, they will seize the opportunities brought by China's opening up and reform. In this regard, the peoples of China and Italy are natural ambassadors for fostering Sino-Italian cultural and economic dialogue while building the New Silk Road together.
The author is a graduate in China Studies and International Relations at Peking University and the London School of Economics. Currently, he is working in the fields of development and public policy.
Most Viewed in 24 Hours
China Views