President: Monaco ties set example
Share - WeChat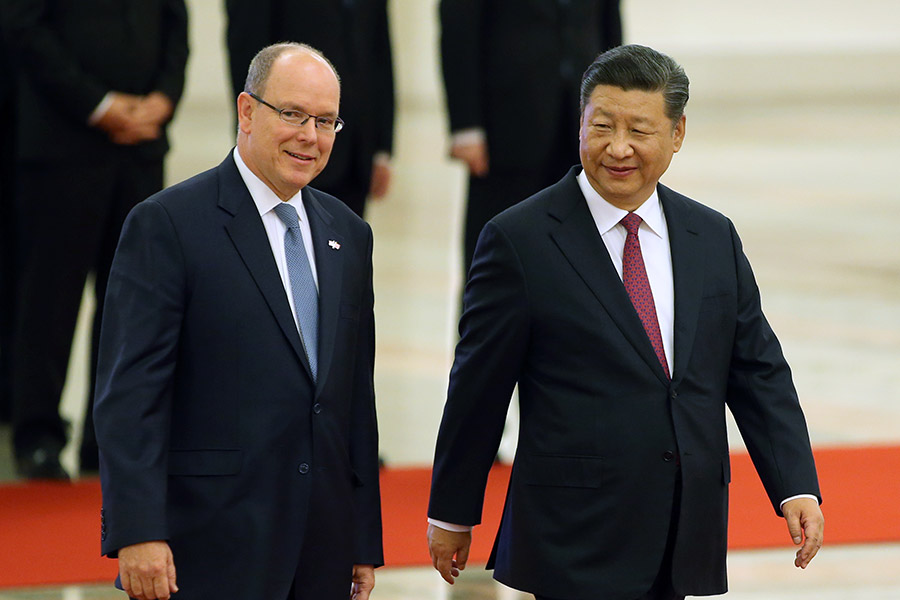 China and Monaco should explore cooperation in areas including ecology and environmental protection, coping with climate change, and clean energy under the framework of the Belt and Road Initiative, President Xi Jinping said on Friday.
Xi's remark came as he met in Beijing with Prince Albert II, Monaco's head of state, who is making a state visit to China. The visit also marks Prince Albert's 10th visit to China and fourth meeting with Xi.
Xi said the two sides should maintain close exchanges, explore cooperation as well in green and low-carbon sectors and wild animal protection, and enrich cultural and people-to-people exchanges.
Xi expressed his appreciation for the long-term commitment of Prince Albert and Monaco's monarchy to furthering bilateral relations.
Even though they are far apart geographically and remarkably different in national conditions, the two nations stick to mutual respect, equal treatment and win-win cooperation, he said. The good relations between the two countries have set an example for friendship and common development of big and small nations, Xi added. It is the consistent position of China that countries, whether big or small, rich or poor, strong or weak, should all be equal members of the international society, which is an integral part of building new types of international relations.
Xi noted that as a member of the International Olympic Committee, Prince Albert extended his support to China for its hosting of the 2008 Summer Olympic Games, and he added that China welcomes the Monaco monarch to attend the 2022 Winter Olympic Games in China.
Xi also briefed his guest on the Beijing Summit of the Forum on China-Africa Cooperation, which concluded on Tuesday.
China supports Africa in diversifying its partnership and is willing to work with different countries, including Monaco, to jointly support the lasting peace and sustainable development of Africa, he said.
Prince Albert congratulated China for successfully hosting the FOCAC Beijing Summit.
He said he was able to witness new achievements in China's economic, social and cultural development during each of his visits.
Monaco is happy with the current bilateral relations with China and highly appreciates and actively supports the important role played by China in international affairs, especially the outstanding contribution by President Xi in global governance and coping with climate change, he said.
Monaco is ready to step up mutually beneficial, win-win exchanges and cooperation with China, he said, adding that he supports China's hosting of the 2022 Winter Olympics, and wishes it success.
Prince Albert, who visited beekeeping and Siberian tiger protection programs in Jilin province before the meeting, said he was impressed with China's achievements in ecology and environmental protection.