Optical collusion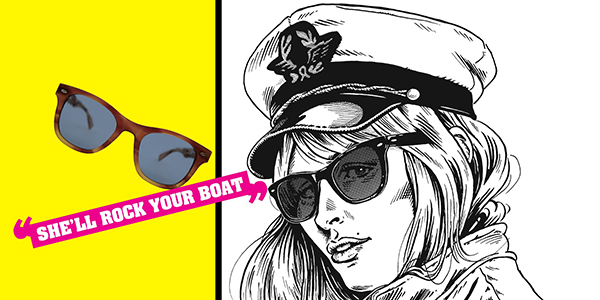 Glasses don't have to be geeky or gawky – now you can exude an air of fatalism and even a hint of menace with these '70s throwbacks from Shady Character.
Like some nefarious conspiracy, the original brand was hatched in a basement in Manhattan back in the city's Gotham days. It gained notoriety after conspiring with the James Dean Foundation to resurrect the movie star's eyeglasses look. But it was to be a short-lived caper, as the eyewear racket was on the wane and the Shady crew had no choice but to pop a cap in it.

Contrary to belief, the dead do tell tales, and the Shady legend eventually reached the ears of The Light Company in Japan. They made comic artist Aaron Lang an offer he couldn't refuse, and he put pen to paper to exhume a few shifty types from the past – and from a familiar dystopian future – to sport the new Shady Character autumn/winter 2018 collection. Styles include Alpha, with classic Wellington frames, "bowtie" rivets and a "keyhole" nose bridge. These are fairly close to the James Dean model, but Alpha gives them a superfly '70s flavour. Then there's Mechanic, which combines Wellington and titanium frames, and features bowtie rivets adorning both arms and frame – channelling that Charles-Bronson-with-a-death-wish look. For the ladies, there's Sailor, a clever reinterpretation of the Wellington frame with a slightly raised "cat's eye" – perfect for dames with a burning secret.