Over 70 students in one classroom in Shaanxi primary school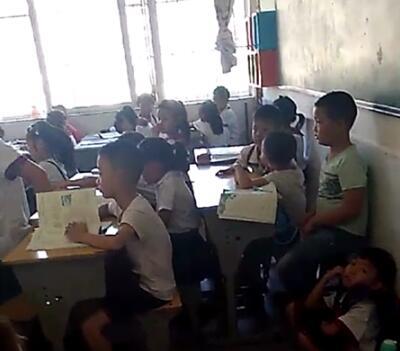 A classroom at the No 2 Primary School in Danfeng county in Shangluo city, Shaanxi province, has more than 70 students. The classroom is so full that some students do not have chairs and have to squat at the back of the class.
The school split the classes of second graders into six from seven during the summer vacation to address the problem of oversized classes that go beyond class size standards. However, when it enrolled more than 100 students over the expected number in the new semester, the number of classes remained the same - six.
"We intended to reduce the number of students in each second-grade class from 72 to no more than 65," said Zhu Hanyin, the headmaster. "The unexpected high number was mainly due to migrant workers admitting their children. We went back to six classes so as to guarantee the school's normal operation," Zhu said.
The school is currently working to provide one more classroom to second graders by squeezing the teachers' office space, according to Zhu.
Big class sizes have become a growing problem in recent years which indicates that the allocation of education resources have not kept pace with the urbanization drive.
According to the annual Government Work Report in March, China will move fast to put an end to big class sizes in urban schools. Last month, at the fifth meeting of the 13th National People's Congress Standing Committee, Education Minister Chen Baosheng also stressed the elimination of oversized classes with more than 66 students by the end of this year and doing away classes with more than 56 students by 2020.